On our test, HUAWEI WATCH GT 3 Pro in the classic version is not as expressive as ceramic ones with a ceramic strap (and this also happens), but still interesting: where else can you find the ability to record an electrocardiogram and track the menstrual cycle at the same time? The list of other advantages of the watch is close to that of the "regular" WATCH GT 3, but still different. Let's figure out what's what.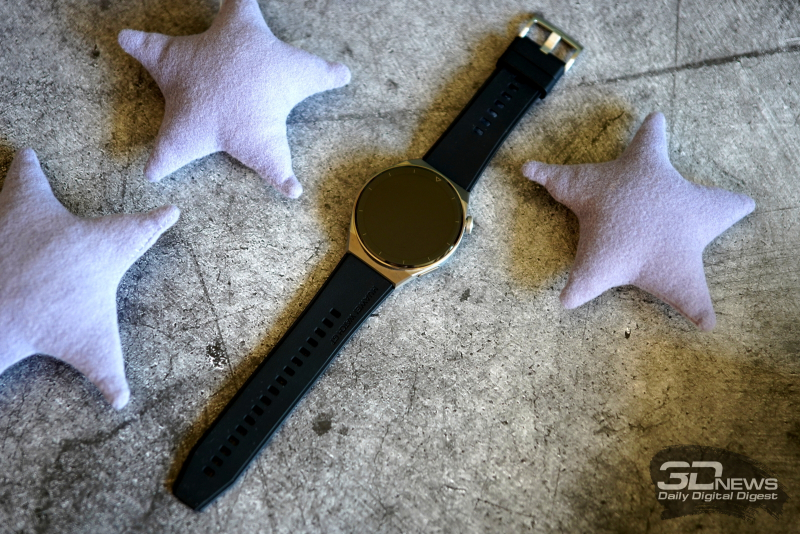 | | | |
| --- | --- | --- |
| | Huawei WATCH GT 3 Pro titanium case | Huawei WATCH GT 3 Pro Ceramic Case |
| Form factor | Wrist watch | Wrist watch |
| Display | 1.43″ AMOLED HD (466×466) touchscreen | 1.32″ AMOLED HD (466×466) touchscreen |
| Operating system | Harmony OS 2.0 | Harmony OS 2.0 |
| Compatibility | Android 6.0 and above; iOS 9.0 and above | Android 6.0 and above; iOS 9.0 and above |
| RAM | No data | No data |
| Storage device | 32 GB | 4 GB |
| Wireless interfaces | Bluetooth: BT5.2, BLE/BR/EDR; NFC GPS, GLONASS, Galileo, Beidou, QZSS | Bluetooth: BT5.2, BLE/BR/EDR; GPS, GLONASS, Galileo, Beidou, QZSS |
| Sensors | Accelerometer, gyroscope, geomagnetic sensor, optical heart rate monitor, light sensor, barometer, body temperature sensor | Accelerometer, gyroscope, geomagnetic sensor, optical heart rate monitor, light sensor, barometer, body temperature sensor |
| Waterproof | 5 atmospheres, IP68 | 5 atmospheres, IP68 |
| Frame | Titanium alloy and sapphire crystal | Nanocrystalline ceramics and sapphire glass |
| Straps | Fluoroelastomer, leather | Ceramics, leather |
| Weight (without strap) | 54 g | 50 g |
| Dimensions (without strap) | 46.6×46.6×10.9mm | 42.9×42.9×10.5mm |
| Price | 22 999 rubles | 27 999 rubles |
⇡#Design and construction
If in terms of design, compared to the "regular" WATCH GT 3, the watch has changed quite noticeably, then the concept of the versions and their dimensions have remained almost the same. The watch received two versions, male and female, which differ in design and materials (titanium and ceramics, respectively), dimensions and screen size. The male, titanium version received a 46 mm dial with a 1.43-inch screen, and the ceramic (conditionally female) version received a 42 mm dial with a 1.32-inch screen. Both displays – with AMOLED matrices of the same resolution – 466 × 466 pixels.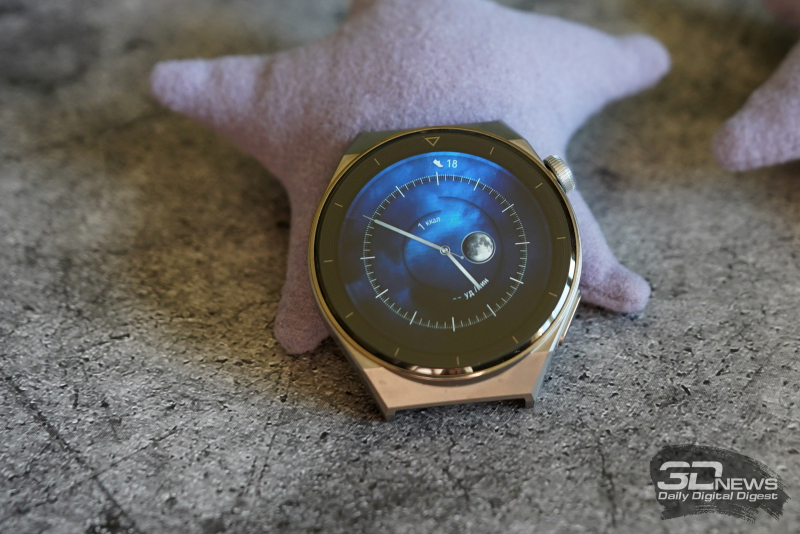 It was the materials that became the main external update – both titanium alloy and ceramics are rarely found in smart watch cases. We got acquainted with the titanium version, so we will talk about it. It is quite difficult to find any visual or tactile differences from the stainless steel used in the WATCH GT 3 – metal and metal. And the watch in the Pro version did not even become lighter. On the contrary: 50 grams versus 42.6 grams for the GT 3 with almost identical dimensions. But, probably, the GT 3 Pro boasts increased durability (the display is covered with sapphire crystal), but I did not check this.
Also noteworthy are the "cast" eyelets for the strap and a more minimalistic "dial", freed from digital designations. At the same time, the controls are the same – a key combined with a rotary wheel (it is responsible for confirming actions, scrolling through information on the screen and quickly switching to the application menu), and a regular flat key (calls the training menu). And, of course, the touch screen.
Each version (titanium or ceramic) is available in a single color combination – black and silver men's GT 3 Pro and white and gold women's. There are much more variations on the straps: for the titanium GT 3 Pro, straps of different colors are provided from fluoroelastomer (as on the test specimen) and leather, for ceramic ones – from ceramic and leather.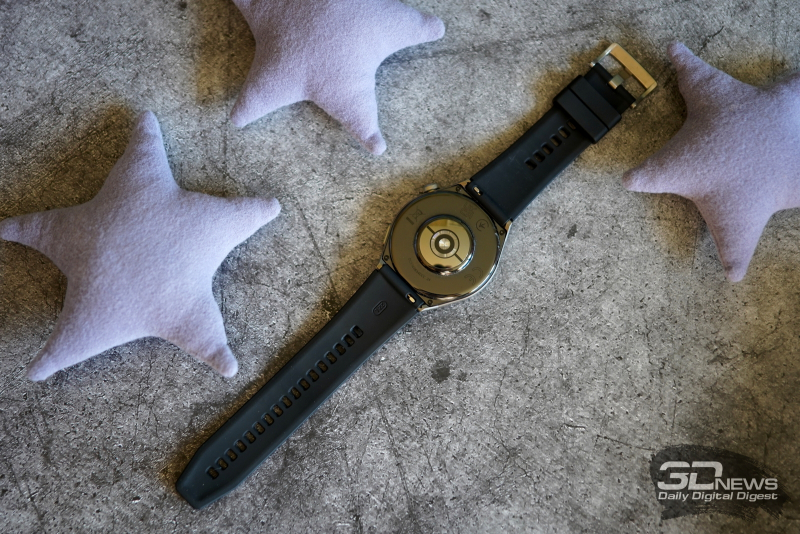 As always, numerous sensors are placed on the inside, glossy part of the watch – more on their purpose below. I also note a slight bulge – thanks to it, the watch is well kept in the charging cradle.
⇡#Functionality
Almost the main feature of the flagship WATCH 3 model, e-SIM support, has been removed in HUAWEI WATCH GT 3, with a logical consequence in the form of the loss of increased watch autonomy from a smartphone. In the Pro version, the virtual SIM did not return, the watch has other values ​​- first of all, this is an increased number of health-related functions. But it should be noted that there is an NFC module that allows you to pay at terminals using the Huawei Pay system.
One of the main features is the ability to take an electrocardiogram using the HUAWEI WATCH GT 3 Pro. Directly on the hand, without connecting additional sensors – you just need to put your finger on a flat key on the case (sensors on the back of the case do not cope with this function). Of course, the result cannot be used for clinical purposes – the accuracy is not the same, but, according to the manufacturer, the graphics that the smartwatch gives out will allow you to recognize potential problems in the early stages. At least the watch gives recommendations – whether there is something disturbing in the work of your heart or not. I also note the "Cycle Calendar" function, which allows you to track the menstrual cycle and send reminders in accordance with the entries – however, no sensors are required here, this is just another activity monitoring function.
The rest of the health monitoring functions are familiar from WATCH 3 and WATCH GT 3: the watch can count steps, pulse, recommend to move if you are sitting too long. They can also measure your blood oxygen levels, how you sleep, and measure your skin temperature. Finally, the watch shows the exact time of sunrise and sunset, the time of low and high tide, as well as the phases of the moon, plus it can warn of impending bad weather. However, the watch did not do the latter in my case, a couple of times "missing" the impending downpour and severe pressure drops. But the accuracy of counting the pulse frankly pleased.
The set of sensors has not changed: accelerometer, gyroscope, geomagnetic sensor, optical heart rate monitor, light sensor, barometer, skin temperature sensor.
But the filling of WATCH GT 3 Pro did not do without updates at all – the navigation module now works with five systems: GPS + Beidou + GLONASS + Galileo + QZSS. As you understand, to record a workout track, there is no need to keep the watch connected to a mobile device, as well as generally take it with you and run with your phone in your pocket. The clock will take care of itself.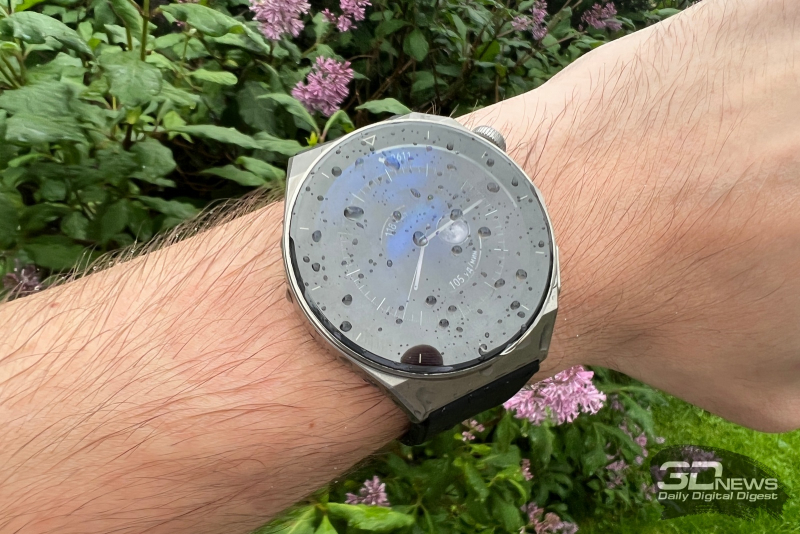 The user has a large set of built-in training modes – from running or hiking to swimming, in addition, there is the possibility of individual adjustment of their modes. A separate emphasis in WATCH GT 3 Pro is placed on swimming – the watch received an increased water resistance class that complies with the engineering standard EN 13319. More familiar characteristics are IP68 class and a withstand pressure of 5 atmospheres (which corresponds to diving to a depth of 30 meters).
Additionally, the watch is equipped with a new depth barometer that supports real-time display of key dive information, a built-in learning and preparation function (including the breath hold training function), and also helps with ground satellite positioning to accurately mark the entrance to a dive; you can also set time and depth alerts for different stages of the dive. In theory, the watch is perfectly adapted for diving, but it was not possible to test this in practice.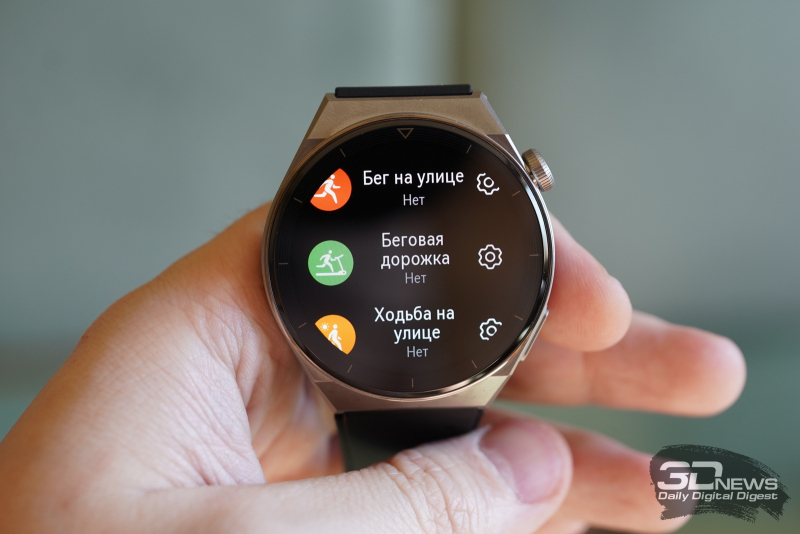 For running, the watch is also good – in addition to the basic training set and the already mentioned sensors, the HUAWEI WATCH GT 3 Pro can offer a personalized training plan based on your performance and measurements (for this you need to pass a half-hour test offered by the watch). This is a very interesting option.
The remaining functions are typical for any smart watch: synchronization of notifications with a smartphone, the ability to accept / reject a call (and you can answer it directly on the watch, which has both a speaker and a microphone), set up a smart alarm clock, control sound playback on a smartphone ( by the way, a function that does not always work correctly on smart watches). You can switch between functions and applications either by swiping the "carousel" on the touch screen, or through the "matrix" with all available applications. There is no option to install additional applications from the App Gallery, as in HUAWEI WATCH 3 – you only need to use what is preinstalled and what will be added with regular firmware updates.
To work with the watch, you must install the Health app (HUAWEI Health) on your smartphone, through which synchronization with the accessory takes place, and control over the basic data obtained with its help, and changing watch faces, and everything else. As in the case of WATCH GT 3, I note that the application worked stably in the iOS version and not too confidently on Android (the watch constantly "falls off"). At the same time, the application has been updated, having received a new Healthy Living section with an individual plan no longer for training, but for more "civilian" goals (sleep, the number of steps taken per day, physical activity, smile more often, drink medicine, and so on), which you can customize yourself – and the watch will then remind you of their implementation.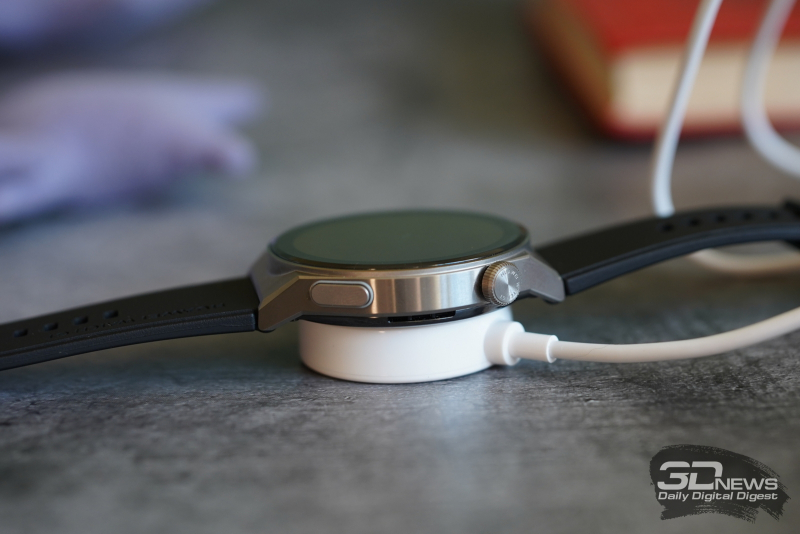 The manufacturer does not indicate the battery capacity for both versions of the HUAWEI WATCH GT 3 Pro, but there should be no cardinal differences from the WATCH GT 3 – they promise up to two weeks of battery life with daily short-term use of GPS and always-on heart rate measurement, sleep and notifications. Most likely, in fact, you will have to charge the watch more often. How often – depends on your manner of use, but still hardly more than once a week and a half, even with active training. In terms of autonomy, the HUAWEI WATCH GT series has always been quite good – and remains so now.
⇡#Conclusion
At first glance, the HUAWEI WATCH GT 3 Pro doesn't pass the Occam's razor test – the Chinese company spawns essences, largely duplicating the HUAWEI WATCH 3/3 Pro minus e-SIM, NFC and the ability to install applications. But on second and subsequent glances, it is clear that this is a watch with a different concept, much more focused specifically on physical activity: an additionally strengthened case, improved running training programs, a completely new training and diving training program, an ECG measurement function, a few more health-related capabilities, increased autonomy… In fact, we get a more comprehensive solution in terms of working with training and health, but in a case of a similar format, with a classic design and with equally convenient controls.
If you notice an error, select it with the mouse and press CTRL+ENTER.