For electric vehicle manufacturers, the 0-60 mph time of less than two seconds remains a cherished milestone, but top speed numbers are also important for marketing purposes. Tesla has been steadily improving the dynamic performance of its products, but the recent speed record of 348 km / h was set with the intervention of a third-party company.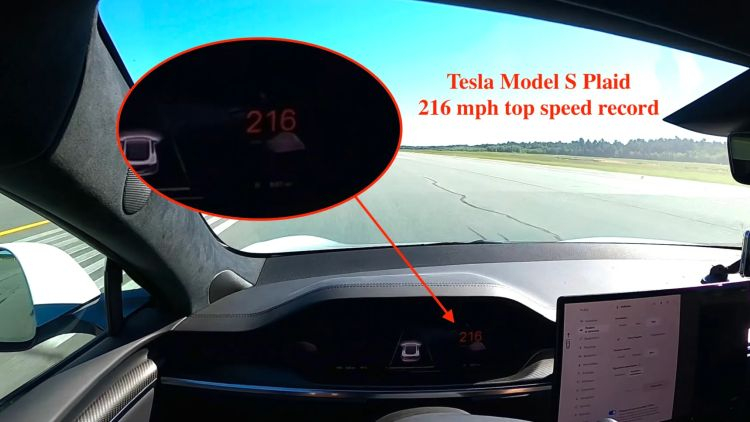 As explains Electric, Canadian company Ingenext, which specializes in unlocking solutions for certain capabilities of Tesla electric vehicles, managed to accelerate this week a modified Model S Plaid to 348 km / h, which is a new speed record for this electric vehicle. In the regular version, due to the use of the "racing" Track Mode, Tesla managed on its own to raise the maximum speed of the Model S Plaid to 282 km / h, although at the time of the market debut the car was limited to a speed of no more than 262 km / h. By the way, at the stage of preparation for the announcement, Tesla promised that the Model S Plaid version would be able to travel at speeds up to 322 km/h. While on machines in the normal state, such speeds are not achieved, since Tesla programmatically limits them.
According to the source, Ingenext specialists found a way to remove the existing blockages, after which they rented an airfield runway 3 km long for a short time to update the record, since the team of experiment participants simply did not have enough space on previous routes. Even under the conditions of the new experiment, the car had to reach its maximum speed by the mark of 2 km, and then begin to slow down. Having barely met the segment of asphalt allotted for the experiment, Ingenext representatives were able to accelerate the car to 348 km / h.
On the test electric car, the diameter of the brakes was increased, and the tires were replaced with safer ones for the selected driving mode. It is characteristic that during the experiment, the cooling system of the Tesla power plant made a serious noise, since both the electric motors and the traction battery heat up at such speeds. By the way, in the future, Ingenext intends to offer a tested modification to all owners of the Tesla Model S Plaid for a certain amount.
If you notice an error, select it with the mouse and press CTRL + ENTER.