TSMC, the world's leading semiconductor manufacturer, has faced an unexpected reduction in orders from major partners. Against the background of the negative situation in the global economy, the demand for many types of electronic goods is falling. This is especially true for the computer components market. Against the background of the recession of the mining boom, the number of available video cards in the secondary market has increased dramatically. NVIDIA is facing a marketing challenge for existing GeForce RTX 30 series models. This paints a bleak outlook for the new generation. Therefore, NVIDIA wants to adjust its plans and cut orders for 5nm wafers for its Ada Lovelace GPUs. At the same time, NVIDIA has already made an advance payment for the reservation of production facilities, and TSMC does not want to make concessions. It is possible to delay the shipment of chips for a couple of quarters if the customer finds a client for the freed up capacities.
It is also known that AMD wants to reduce orders for 7/6nm wafers. Apple has reduced its plan for the first wave of the iPhone 14 by 10%. The decline in demand for semiconductor chips had an immediate effect on TSMC shares, which went down sharply. At the same time, the company showed significant growth in the first quarter. And all technology companies have noticeably lost in capitalization over the past few days. This applies to AMD, Nvidia, ASUS and other industry leaders. This trend is connected both with the situation in the industry itself and with the general negative processes in the global economy.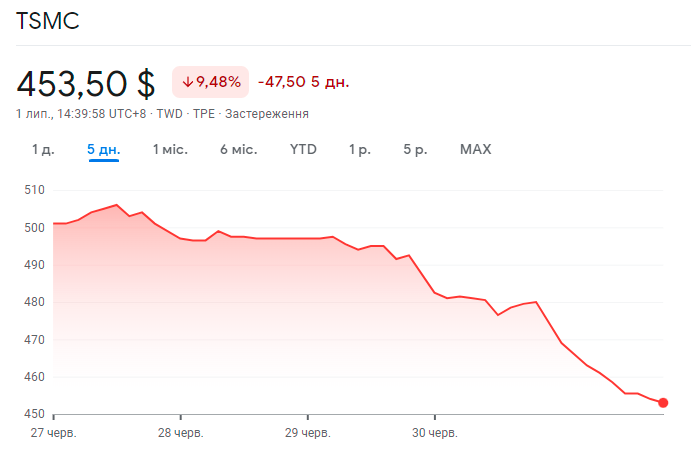 Demand for consumer electronics is steadily falling. But there is still a strong demand for electronics for cars and high-performance computers. And here demand still exceeds supply, so TSMC expects to fully load production during 2022. TSMC's management is confident in its operating performance for the current year and for the long term for the next 10 years.
Sources:
videocardz.com
DigiTimes