Developers from the Swedish studio Lavapotion submitted plan to support your turn-based strategy with RPG elements and the adventure of Songs of Conquest. Before the end of 2023, two new campaigns, multiplayer improvements, skirmish co-op, and more are expected.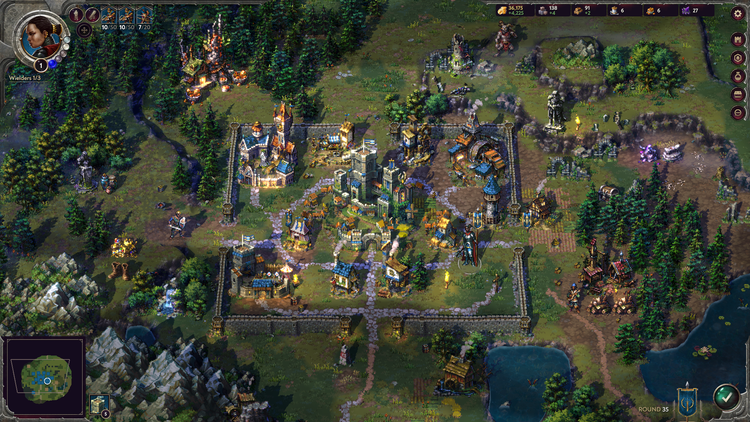 The creators have already fulfilled some requests from the players: in particular, they added a system of simultaneous moves in multiplayer sessions (it is now available in a test version) and changed the difficulty levels in the campaign (normal became easier, and high became more difficult).
In the near future the game will receive the following:
multiplayer improvements:
development of a system of simultaneous moves;
control of enemies during the battle;
forced quick battles option;
more gameplay options during the opponent's turn;
campaign difficulty settings;
new map for Skirmish mode;
support for additional languages ​​- traditional Chinese, Korean and Turkish.
During 2022 are expected:
random map generator;
a new campaign dedicated to one of two factions – Loth or Barya;
improved map editor interface;
combat component improvements:

more spells for masters (heroes);
more skills for units;
innovations related to sieges;

multiplayer improvements:

update for the system of simultaneous moves;
lobby update;
move timer;

content update of the in-game code;
improved accessibility settings;
translation into Japanese.
In 2023 it is worth waiting for:
another new campaign (Lot or Baria);
the final version of the map editor;
support for the cooperative in the "Fight";
more neutral units;
more AI settings;
achievements;

artifact sets.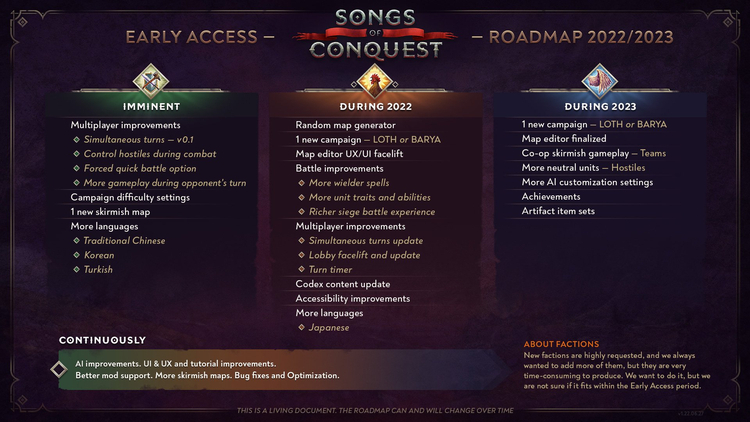 In addition, the authors promise to constantly improve the AI ​​system, interface, training, optimization and support for modifications, release new maps for Skirmish and fix bugs. The developers are aware of the requests to add more factions and would like to do it themselves, but it will take a long time, so they may not appear as part of early access.
The creators thanked the users for their support and interesting suggestions. "We have been working on this game for over five years and are ready to spend a couple more to make it perfect., they wrote. — We have a small team and we are very happy that we finally have our own audience." Now Lavapotion is expanding its staff.
The team also showed how the global map and the battle screen have changed over the past five years.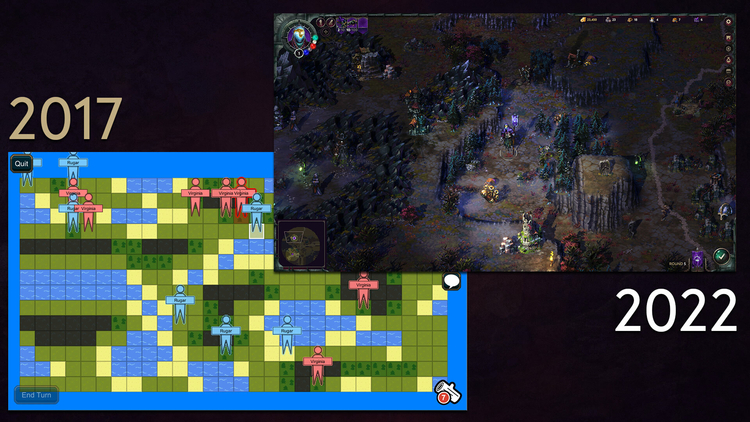 Songs of Conquest was released on May 10 at Steam and GOG and will stay in early access for about a year in total. In the Valve store, the strategy has received more than two thousand reviews, based on which it has a rating of 86%.
If you notice an error, select it with the mouse and press CTRL + ENTER.