The new PlayStation Plus at a glance: Which packages are worthwhile for you? And where does Sony still have to improve? We have tested the revised payment service for you!
Sony is upgrading: the new PlayStation Plus has been online since June 23. Gone are the days when PlayStation Now and PlayStation Plus lived side by side. With the revised model, Sony summarizes the options in three payment models. But does this really mean serious competition for Microsoft's Xbox Game Pass? We have dug through the subscription models and their possibilities for you.
Annual memberships are clearly preferred thanks to discounts
First of all, let's look at the individual packages and their services in detail.
PlayStation Plus Essential:
Price: 8.99 euros monthly / 24.99 euros quarterly / 59.99 euros annually
Content and Services: Essential is the basic package. If you previously subscribed to PlayStation Plus, Sony will automatically convert your membership to PlayStation Plus Essential. In addition to the option of online play and cloud storage, this also includes monthly free games and exclusive discount campaigns.
PlayStation Plus Bonus:
Price: 13.99 euros monthly / 39.99 euros quarterly / 99.99 euros annually
Content and Services: PlayStation Plus Extra offers all the benefits of the Essential bundle plus access to the extensive PlayStation Plus games catalog of up to 400 titles. The new cooperation with Ubisoft in the form of Ubisoft+ Classics is also part of this offer.
PlayStation Plus Premium;
Price: 16.99 euros monthly / 49.99 euros quarterly / 119.99 euros annually
Content and Services: The premium bundle unlocks additional bonuses – such as a classic library with titles for PlayStation 3, PlayStation 2, PlayStation and PSP. In addition, this subscription is the only one that allows the option of cloud gaming and streaming. PS5 games are exempt from this option. There are also demo versions.
In contrast to Microsoft's Xbox Game Pass, Sony not only offers monthly but also longer memberships. While subscriptions with monthly cancellation rights are expensive, annual memberships come at a hefty discount. In the premium package, the difference between an annual and monthly subscription is around 80 euros over twelve months.
In addition, annual members remain below the magic limit of 10 euros per month for many. In short: Sony is aiming strongly at selling long-term contracts and, in return, is enticing with strong discounts.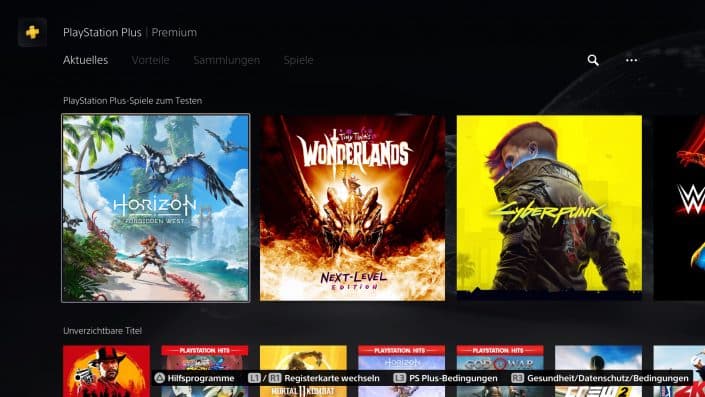 Extra package for frequent players
The Essential subscription lives up to its name and thus offers the basic set of functionality. Without a membership, you cannot play a large part of the available titles online and you will also get nothing when it comes to cloud storage. The so-called PlayStation Plus Collection – a collection of well-known PS4 games such as "Resident Evil 7: Biohazard" or "The Last Guardian" – is still included in the Essential area.
The most interesting payment model is likely to be the extra offer for many. The catalog of PS4 and PS5 titles such as Marvel's Spider-Man: Miles Morales, Ghost of Tsushima and Demon's Souls is available here. There are also third-party games like "Guardians of the Galaxy", "Red Dead Redemption 2" or "Control: Ultimate Edition". In addition, the Ubisoft+ Classics such as "Assassin's Creed: Valhalla" or "Far Cry 4" also appear here.
The range is impressive across the board and offers enormous variety. So if you are primarily concerned with the largest possible catalog of games, you will find the price-performance winner in the PlayStation range here. Very important: Day-one releases of first-party games will not be regular for the time being. Stray, which will be released in July, will be an exception.
PlayStation Plus Premium with catching up to do
The largest and most expensive premium model is of course aimed at "heavy users" – i.e. at the players who have been around for a long time and want the maximum number of options.
In contrast to the Xbox Game Pass, Sony PlayStation only allows cloud gaming on a PC or console – but not via smartphone or tablet. Gambling on the go is not possible. The good news: In the test with the PS5, streaming classic titles like "Forbidden Siren" or "Ape Escape" worked without any problems. There weren't any rough jerks or other difficulties. However, the selection of classics for PS1, PS2 and PSP is currently still very manageable.
Not even 40 games are on offer here. The really big brands like "Gran Turismo" or "Silent Hill" are missing here. After all, there are around 140 streamable titles for the PS3. Nevertheless, Sony still has to step it up a notch in this sector and deliver top-class products, especially for the first generation of consoles.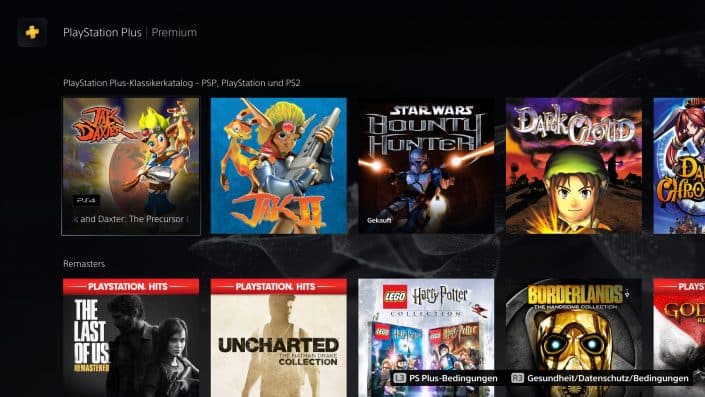 The streaming of PlayStation 4 titles, on the other hand, is more dependent on the Internet connection. In the test with "God of War" it was noticeable that the image quality became slightly blurry or pixelated with minor connection fluctuations. Our recommendation: If you play on the console, load the games directly onto the hard drive. This ensures an optimal and carefree gaming experience.
We also liked the possibility of demo versions. At the start of the new PlayStation Plus you can, for example, play "Cyberpunk 2077" or "Horizon: Forbidden West" for five hours and get a first impression. The nice thing here: If you buy the game later, you can continue to use the save data.
Conclusion:
Granted, Xbox Game Pass offers more content overall and better handling too. But the new PlayStation Plus is a start and definitely has room for improvement. The premium package in particular is not yet fully convincing. Friends of the classic department in particular will be largely disappointed with the current range.
Anyone who expects more from their PlayStation Plus than just the previous content is best off with the extra subscription: the selection of titles is quite lavish and offers a lot of first and third party top quality. So if you are primarily concerned with a broad software library, you are spot on with the extra bundle.
---
More news about PS Plus:
---
However, Sony still has to work on the navigation and sorting options in the future. The menus are sometimes a bit confusing. The new PlayStation Plus is not an absolute hit, but it is also not a flop. In some areas, however, Sony has not yet reached its full potential.
Which PlayStation Plus tier do you subscribe to?
More news about Playstation Plus.
Discuss this news on the PlayStation Forum
Links to Amazon, Media Markt, Saturn and some other retailers are usually affiliate links. If you make a purchase, we receive a small commission that we can use to finance the free-to-use site. You have no disadvantages.