The first Mars rover of the US National Aeronautics and Space Administration (NASA), called Sojourner, along with the landing platform, landed on the surface of the Red Planet on July 4, 1997. The success of the mission, which brought a miniature 11.5 kg rover and research station to Mars for the first time, ushered in a revolution in planetary exploration, continued by Curiosity and Perseverance a quarter of a century later.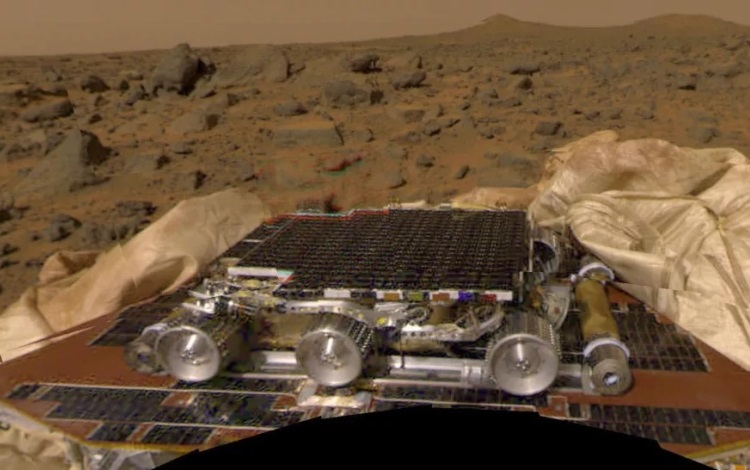 This mission was part of NASA's Mars Pathfinder program, and the rover was named after 12-year-old Valerie Ambroise, who won a nationwide essay competition about Sojourner Truth, a black woman who fought to abolish slavery in the United States. The rover named after her worked on the Red Planet for four months, which is 12 times more than the design life. During the period of operation, he was engaged in the analysis of the chemical composition of nearby rocks and the transmission of the data obtained to the Earth.
Based on the information received from the rover, scientists concluded that the Red Planet is potentially habitable. "Scientific evidence suggests that Mars was once warm and humid in the past, with liquid water and a denser atmosphere."— reported in the Jet Propulsion Laboratory (JPL) NASA, whose specialists carried out the management of Sojourner.
The first rover powered by solar panels placed in the structure is the ancestor of modern vehicles such as Curiosity (explores Mars for almost 10 years) and Perseverance (arrived on the Red Planet in early 2021, accompanied by a miniature Ingenuity helicopter). All of these rovers are part of a massive program that uses landers, orbiters and other vehicles to study the complex history of Mars. And today, scientists are worried about why the atmosphere of Mars has thinned and whether there were once conditions suitable for life on the planet in the distant past.
Sojourner was a real pioneer, who proved the possibility of creating research vehicles capable of moving on the surface of Mars. In total, NASA released 16,500 images taken by the station and 550 photos taken directly by the rover. The last time data was transmitted to Earth as part of this mission was September 27, 1997, after which the rover, together with the station, completed their scientific activities, remaining standing on the surface of the Red Planet.
If you notice an error, select it with the mouse and press CTRL + ENTER.