The action-adventure "ONI: Road to be the Mightiest Oni" has received a new trailer, some screenshots and details. Publication is planned for this year.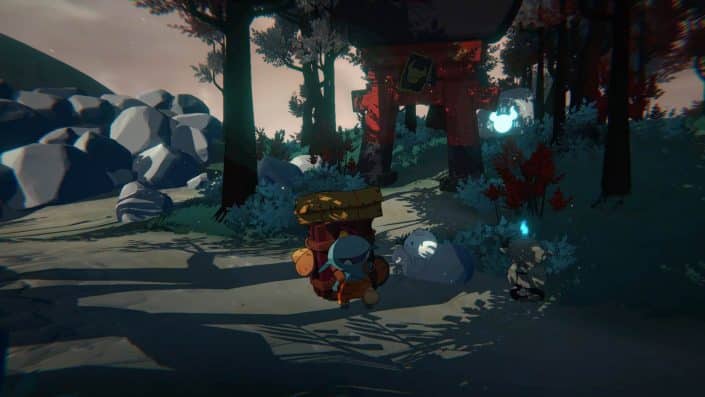 A small island in the middle of the ocean. Demonic spirits that can be challenged to trials and the last survivor of the Demon King's army who lives on this patch of earth with his mysterious spirit. Sounds interesting? Then you should take a closer look at ONI: Road to be the Mightiest Oni.
Prove yourself as a demon warrior
The protagonist, Kuuta, and his spirit companion, Kazemaru, must face numerous challenges on Kisejima. Above all, demons from ancient times, which were once defeated by Momotaro, are waiting for another fight here.
Developer studio Kenei Design promises a unique action in ONI: Road to be the Mightiest Oni, as Kuuta bashes enemies' physical bodies with his club. However, Kazemaru will need to suck up their souls in order to actually defeat them. You will play both characters at the same time, which is why you can also face different opponents. No challenge is too big, right?
In addition, the island is divided into three areas that entail different tasks. From pure combat to escort missions, the aim is to keep players happy on Kisejima. You can also upgrade your own character by running away from pursuers. If you collect mushrooms, you can use them to buy upgraded clubs.
ONI: Road to be the Mightiest Oni will be released later this year for PlayStation 5, PlayStation 4 and PC. Check out the trailer and the latest screenshots to get a taste of the adventure already.
More ONI: Road to be the Mightiest Oni news.
Discuss this news on the PlayStation Forum
Links to Amazon, Media Markt, Saturn and some other retailers are usually affiliate links. If you make a purchase, we receive a small commission that we can use to finance the free-to-use site. You have no disadvantages.