Yoobao PD28-V2 Power Bank can charge a lot. With a large battery of 20,000mAh and supports charging up to 22.5W, supports 20W Power Delivery (PD) standard with a beautiful design. and the size is not very large It's easy to carry. There is also another notable The digital status display makes it easy to see the % of the battery.
The design is not very big. Premium material
As for size, the Yoobao PD28-V2 doesn't disappoint. Because it has a good size, easy to carry. With a rectangular shape, dimensions 139x66x27 mm and weight 434 grams, it also has a premium, matte finish. and uses a strong material such as aluminum alloy, with 4 colors to choose from: black, gray, green, and blue, with the color reviewed being black.
Digital screen, see battery percentage, comfortable.
To see the percentage of the available battery, it's easy because it has a digital display screen, just press the power button. The screen will be displayed immediately.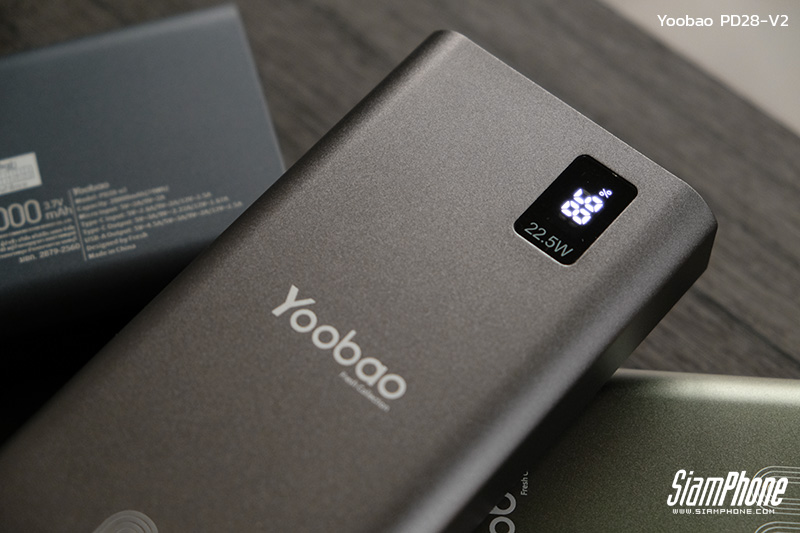 20,000mAh large battery
The battery is not worried. Because inside there is a large battery of up to 20,000mAh, after trying to charge the smartphone with a 4,200mAh battery by charging 2 times with the remaining 30% battery, the Yoobao PD28-V2's battery is still 46%.
Supports fast charging of devices with the PD 20W standard.
No worries about fast charging. It supports fast charging up to 22.5W and supports 20W Power Delivery (PD) charging standard, making it easy to charge newer iPhones. It also supports fast charging standards like SuperCharge Protocol (SCP).
There are 3 charging ports.
The charging port of Yoobao PD28-V2 comes with three ports: USB Type-A port, USB Type-C port, and Micro USB port. The USB Type-C port and Micro USB port are the input ports for charging. The Yoobao PD28-V2, the USB Type-A port and the USB Type-C port are the Output ports for charging other devices (USB Type-C ports are both Input and Output). The power supply for each port can be seen on the side. lower
Input Micro USB = 5Vx2A, 9Vx2A Input: USB Type-C = 5Vx2.6A, 9Vx2A, 12Vx1.5A Output: USB Type-C = 5Vx3A, 9Vx2.22A, 12Vx1.67A Max power supply 20W Output: USB Type-A = 5Vx4.5A, 5Vx3A, 9Vx2A, 12Vx1.5A Max power 22.5W
Can charge 2 devices simultaneously
Yoobao PD28-V2 can also charge 2 devices simultaneously. Because there are both USB Type-C and USB Type-A ports to supply power, it is called portable. The device can charge a variety of other devices and is not a problem because it has a battery of up to 20,000mAh. In addition, if it is an Android user, it is portable. Only one charging cable can be attached to it because it has a USB Type-C and Micro USB input port.

Related articles
Follow the news at Siamphone.com at