Like every weekend, we meet on NextPit for my selection of 5 free or paid mobile applications and games that caught my eye on the Google Play Store and the Apple App Store.
I try every week to bring you the best possible apps that aren't personal data traps or microtransaction nests. To my own findings, I also add the apps unearthed by the NextPit community and shared on our forum, which I invite you to consult.
From mobile games to productivity apps, here are NextPit's 5 free and paid Android/iOS apps this week. We publish this selection every week, you can also consult my 5 apps of the last week.
FIFA+ (iOS & Android)
Particularly decried, the 2022 FIFA World Cup in Qatar continues and many fans actively follow the matches. The Fifa+ app puts match results, team news and highlights right at your fingertips.
For those who have purchased match tickets, you can also view a digital copy of your ticket on the app. If you've been hesitant to watch a match live, the app gives you another option to purchase tickets by redirecting you to the appropriate website. Yes, there are still last minute tickets on sale right now…
Needless to say, you can also buy official merch through this app. Stats buffs will definitely love seeing information about every match, from attendance and weather, to referees, fourth official and live commentary history for the duration of the match.
Prix : Free / Advertising : Oui / Achats in-app : Oui / Account : Not required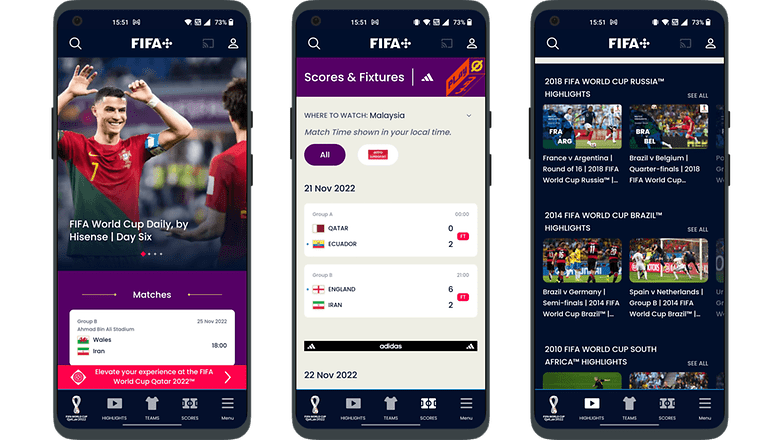 Follow all the action from the 2022 World Cup through this app. / © NextPit
Firefox Focus (iOS & Android)
I like how you can clear browsing history just by tapping on the trash can icon in the top left corner of the screen, and everything will be erased in an instant. All in all, this is a good browser that you might want to install on your smartphone because it's extremely easy to use and the settings won't overwhelm you. The interface is extremely visually pleasing and, above all, your privacy is well protected.
The browser loads quickly because it does not load ad traffic. However, opening a new tab works differently than on a desktop computer, and it takes some getting used to. I like that you can open links in another app of your choice, which is pretty neat. You can also pin up to four shortcuts to the home screen for quick and easy access.
Prix : Free / Advertising: None / Achats in-app : Oui / Account : Not required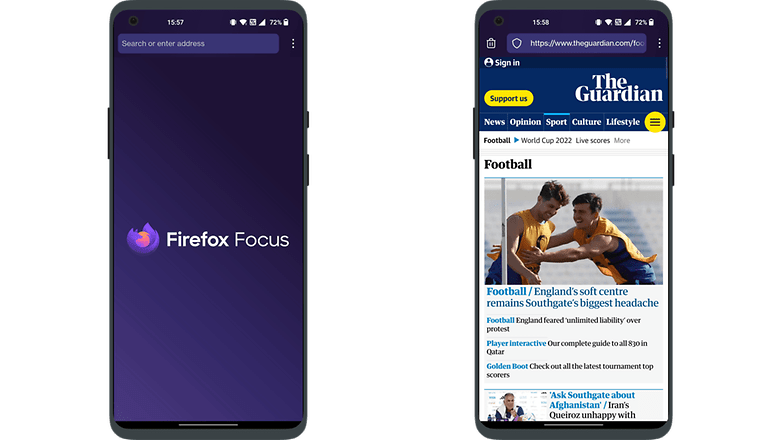 Browse safely with Firefox Focus. / © NextPit
Lookout – Assisted Vision (Android)
Lookout is an app for people with impaired voting skills, where your smartphone's camera will help you read text, locate objects, and explore the world, among other things. It is interesting to note that Lookout is available in more than 20 languages ​​and that it remains very accessible since it only requires a minimum of 2 GB of RAM to operate, which most Android smartphone users often have. .
These modes are pretty clear, and the app worked really well when I scanned text and documents. Food labels required me to upload additional data. When I accidentally scanned my keyboard, the app even informed me which keys the device was looking at.
The flash turns on automatically when you try to read text and documents, for obvious reasons. However, when pointed at laminated paper, it was difficult to decipher what was printed simply because of the flash reflection. Still, having flash is better than no flash at all, and I think there's a lot of potential for Lookout.
Prix : Free / Advertising: Non / Achats in-app : None / Account : Required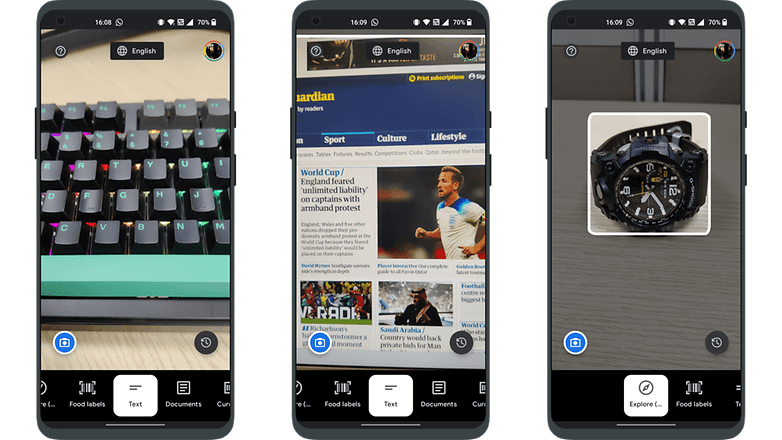 People who need visual assistance can rely on this cool app from Google to help them with certain areas. / © NextPit
Version MS Paint (Android)
You basically get a port of MS Paint on your Android device, and everything works as expected. If you think drawing with your mouse is difficult, try using your finger! This is especially true with the high-resolution screens that smartphones have today, in addition to the relatively smaller screen size compared to a 14-inch CRT monitor.
Since it's free, you can try it out, although I don't think it will stay installed for too long, as it's geared more toward those who've used Windows 95 and earlier.
Prix : Free / Advertising: None / Achats in-app : Non / Account : Not required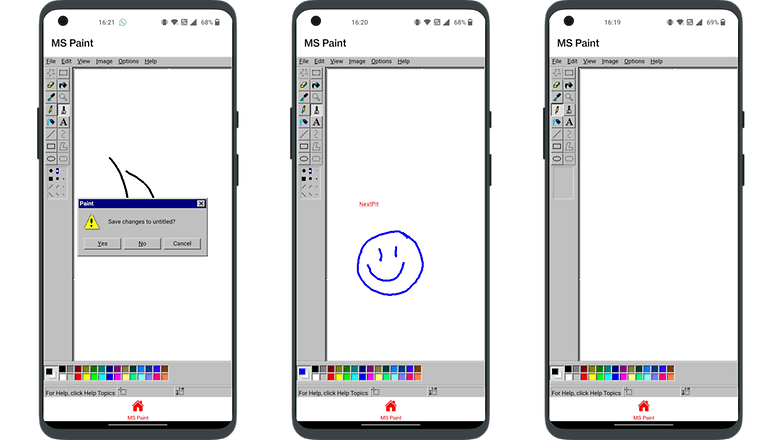 Go back in time with this extremely basic drawing app. / © NextPit
Pokémon TCG Live (iOS & Android)
This is the replacement for Pokémon TCG Online, so you can expect similar gameplay mechanics. Be aware that the number of cards has been halved, which the developer says was done to make the game "optimal" for players. I don't know if this will offend the players…
Once Live comes out of beta, Online will be shut down, so change is inevitable. You'll also be able to buy booster packs online, which means you'll have a better chance of getting a better deck with more money pumped into the game. You already knew that, right?
The first tests on this game were not encouraging. Still, it bears the name of the Pokémon franchise, and I'm sure the developer will work things out eventually. We're crossing our fingers, and most Pokemon fans will continue to give this game a chance. Hopefully, all early bugs will be fixed as soon as possible to ensure the gaming experience is as enjoyable as other Pokemon releases. Let's hope it's a golden goose that won't be killed by over-marketing…
Prix: None / Advertising: None / Achats in-app: Oui / Account: Necessary