Samsung is expected to introduce its Galaxy S23 next month. While we already know almost everything about the technical sheet, a new rumor announces that the basic storage could be doubled but at the expense of RAM. Thus, only the Galaxy S23 Ultra would offer 256 GB of base storage and 12 GB of RAM.
Galaxy S23 and S23 Plus could have 256GB base storage but still 8GB RAM Galaxy S23 and S23 Plus with more storage could be exclusive to certain markets
Despite introducing new photo features like the ability to shoot in 8K, Samsung has stuck with the starting 128GB storage on the Galaxy S line for years. A new leak announces that the brand should change things this year and equip the Galaxy S23 and S23 + with a basic storage of 256 GB.
It can be assumed that these variants of the Galaxy S23 (Plus) will be sold exclusively in certain markets as in the case of the United States. It can also be a promotional action where Samsung offers free internal storage upgrade for pre-orders. At the same time, it's unclear if Samsung will add a 512GB storage option this year.
The alleged Galaxy S23 design with the new lens layout / © Twitter/u/OnLeaks
Contrary to that rumour, another leaker thinks Samsung will still offer the Galaxy S23 (Plus) with 128GB of storage. And he notes that the Galaxy S23 Ultra will be the only model to benefit from storage above 256 GB. The latter would offer up to 512 GB and 1 TB, all coupled with 12 GB of RAM.
Affiliate link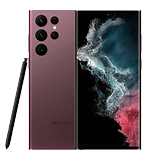 As a reminder, previous rumors announced that the South Korean manufacturer would only offer 8 GB of RAM for the basic Galaxy S23. Fortunately, Samsung could use faster LPDDR5X type RAM, which could give a slight speed boost and better RAM management.
Considering the Galaxy S23's announced price hike, do you think it would be okay if it only had 128GB of base storage? Are you planning to buy a Galaxy S23?