The iPhone 15 Pro could have impressive battery life. While the iPhone 14 and 14 Pro have already had improved battery life, Apple could go even further. The SoC A17 Bionic, engraved in 3 nm and more efficient, should allow the next iPhone Pro to offer significantly better autonomy.
Apple's A17 Bionic SoC will be 35% more efficient than the current A16 Bionic It should equip the iPhone 15 Pro and 15 Ultra
Apple and TSMC continue their partnership. In 2023, the latter will start manufacturing chips engraved in 3 nm, which represents a considerable leap compared to engraving in 4 nm. Apple's A17 Bionic is one such 3nm SoC, which will benefit high-end iPhone 15 models.
iPhone 15 Pro: A much more efficient SoC
Mark Liu, CEO of TSMC, has confirmed that Apple's upcoming custom SoC will be significantly more efficient, stating that it will be 35% more efficient than the A16 Bionic. For reference, the A16 Bionic only managed to deliver 20% efficiency. But it remains to be seen how this will translate to actual autonomy.
Although not mentioned, the A17 Bionic is expected to improve raw and graphics performance after Apple did not improve those points much on the A16 Bionic. At the same time, Apple could also focus on improving the machine learning capabilities of its SoC. The Cupertino company would keep the Qualcomm modem instead of launching a custom one.
Affiliate link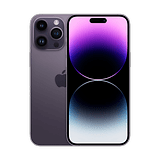 iPhone 15 Ultra: Impressive battery life
The iPhone 15 Pro and 15 Ultra are the only models that will feature the A17 Bionic, as the company would continue to differentiate between its standard and Pro lines. Likewise, the iPhone 15 (Plus) would transition to the A16 Bionic, which is still a solid upgrade from the current A15 Bionic.
Apple is also working on an iPhone Ultra that would replace the Pro Max model. It is rumored to have a titanium frame and a periscope lens. It could also benefit from good autonomy thanks to the A17 Bionic.
What do you think of the autonomy of current iPhones? Would this battery life improvement make you buy an iPhone 15 Pro?