It is already possible to discover the future small changes made to Google Chrome on computer. Hint: there will always be more roundness.
Source : Firmbee.com via Unsplash
Google Chrome will be getting a little refresh in the coming months. And good news, it is already possible to take a look at it, Android Authority tells us. These new features are indeed visible on Chrome Canary – an experimental version of the browser – using a specific address.
To enjoy it in preview, simply enter chrome://flags/#chrome-refresh-2023 in the URL bar and activate the Chrome Refresh 2023 option. From then on, just restart Chrome Canary to see the slight changes to which we will be entitled.
Harmonisation
The first of these – the most striking – concerns the "Add this tab to favorites" button. When you click on it, a window opens to invite you to name your famous favorite. Storing it in a specific place is also possible. In the current version, these options are stored in tabs with rectangular edges.
Source : Aroged
The future update – see the photo above – will swap this shape with a much more rounded overall look. Like, in a way, the aesthetic philosophy of the interface. We were able to experiment with it on Canary: the overall rendering harmonizes well with the rest.
Minor changes
The other change is minor: the separation between the tabs and the URL bar should be very slightly reinforced. It's barely noticeable on the Android Authority example, which also highlights a bluish tint at the top bar of the window. But it seems to depend on the selected theme.
This is ultimately all there is to get your teeth into at the time of writing these lines. No temporal clue as to the deployment of these new features has yet filtered.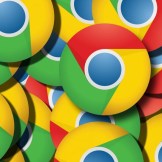 There are a lot of extensions that improve the use of your web browser, but sometimes they can become annoying. To solve this problem, Chrome could soon add a button to deactivate all extensions on a …
Read more

Do you use Google News (News in France)? You can follow your favorite media. Follow Aroged on Google News (and Numerama).