The Bose Smart Soundbar 900 soundbar, which supports Dolby Atmos, delivers a high-quality sound experience. All for a lower price than usual since during the winter sales, this model is displayed at 680 euros instead of 899 euros at Darty.
Bose is undoubtedly one of the behemoths of the audio market. The brand not only offers efficient headphones, but also high-performance soundbars, such as the recent Smart Soundbar 900, which supports Dolby Atmos. This reference even received the excellent score of 9/10 at the end of our test. The good news is that during these winter sales, this soundbar is no longer as expensive as before and has a promotion of almost 220 euros.
Highlights of the Bose Smart Soundbar 900
Mastered finishes Very immersive surround sound A clear and lively sound signature
Initially offered at 899 euros, then reduced to 799 euros, the Bose Smart Soundbar 900 soundbar is now displayed at 680 euros at Darty. The discount is displayed once the product is dragged into the cart.
The reduced price of the Bose Smart Soundbar 900 after the 15% discount in the basket on Darty.
If the offer mentioned in this article is subsequently no longer available, please take a look below to find other promotions for the Bose Smart Soundbar 900. The table is updating automatically .
Where to buy the
Bose Smart Soundbar 900 at the best price?
A very elegant design
The Bose Smart Soundbar 900 soundbar first stands out for its appearance. With its curved lines and beautiful tempered glass finish, this model boasts a truly elegant design, which will certainly not stain under your television. In terms of proportions, it measures a little over a meter for only 5.8 cm in height and about ten centimeters in depth. In short, it will easily slip under your TV, regardless of its size. Note that you can also fix it to the wall.
Surround sound reproduced for good immersion
If Bose has chosen to ignore DTS, and only compatibility with PCM and Dolby Audio streams (i.e. Dolby Digital, Dolby Digital Plus and Dolby True HD), with support for Dolby Atmos metadata, are available, the soundbar still restores surround sound, since its processing processor systematically distributes the signal to all the speakers. And to deliver that enveloping sound that we are looking for, and which is similar to that which we enjoy in the cinema, Bose offers PhaseGuide technologies (which modify the direction of sound propagation in order to give the listener the impression that the sound surrounds it) and TrueSpace, which works the same way, but is optimized for the two upward-firing speakers, to recreate vertical Dolby Atmos sound.
And for these two technologies to reveal their full potential, the user can perform an acoustic calibration, which adapts to the characteristics of the room in which the sound bar is located. To do this, go to the Bose Music app. For example, you can modulate the volume of the low and high frequencies, as well as the presence of the dialogues. Finally, on the audio side, the soundbar has seven speakers on the front and two facing upwards. The sound signature will be very pleasant, since the device will be able to deliver a clear and catchy sound.
Et, le Dolby Atmos?
The Bose Smart Soundbar 900 decodes the Dolby Atmos streams transmitted, but the restitution of the vertical surround effects will not really be comparable to that which can be obtained in the cinema. The sound is well diffused on a vertical axis, but it will be received by use frontally, which is still not a real black point. The power will indeed be there.
To find out even more, do not hesitate to read our complete test of the Bose Smart Soundbar 900.
9 /10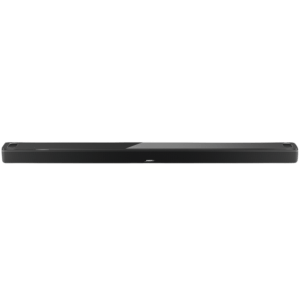 Winter sales: the best offers selected by Aroged's editorial staff
The Winter Sales officially started on Wednesday January 11, 2023 at 8 a.m. in France and will end on Tuesday February 7 at midnight. As of now, several merchants have already drawn their best offers. Here are the best offers from the sales in our live.
Our selections by product categories
Our selections by merchants
Our selections by brands
To make sure you don't miss out on any great deals from this event, here are a few reflexes to adopt right now so you don't miss any of the offers we recommend:
Follow us on our twitter account @ArogedPromos only dedicated to good deals (remember to activate the bell to receive notifications in real time) Download our Aroged application (available on iOS and Android) to activate notifications in the "Good Deals" category and thus receive new articles in real time related to the 2023 Winter Sales Subscribe to our Good Deals newsletter to be sure to receive the offers in preview (no more than one email per day, unsubscribe in 1 click, no distribution to third parties):
The data transmitted through this form is intended for Humanoid, publisher of the Aroged site in its capacity as data controller. They will in no case be transferred to third parties. This data is processed subject to obtaining your consent to send you by e-mail news and information relating to editorial content published on Aroged. You can oppose these e-mails at any time by clicking on the unsubscribe links present in each of them. For more information, you can consult our entire personal data processing policy. You have a right of access, rectification, erasure, limitation, portability and opposition for legitimate reasons to personal data concerning you. To exercise one of these rights, please make your request via our dedicated rights exercise request form.
Do you use Google News (News in France)? You can follow your favorite media. Follow Aroged on Google News (and Numerama).