Released last year, the Apple iPad Air M1 occupies a privileged place among our favorite tablets from the Apple brand. On the occasion of the sales, this premium device is no longer as expensive as before since its price goes from 789 euros to 649 euros on Amazon.
The 2022 version of the iPad Air has benefited from a certain power gain, and this boost is due to the integration of Apple's famous M1 chip. Finishes, performance, screen, autonomy… This model multiplies the good points, and even comes close to the iPad Pro in terms of its technical data sheet. But without copying its price, the iPad Air remains much cheaper than the Pro version. This is all the more the case during the winter sales, since the iPad Air M1 currently benefits from a reduction of 140 euros.
What does the iPad Air M1 offer?
A 10.9-inch Liquid Retina screen A powerful M1 chip An as neat design as ever
Usually offered at 789 euros, the iPad Air M1 (2022) is now displayed at 649 euros on Amazon.
If the offer mentioned in this article is no longer available afterwards, please take a look below to find other promotions for the Apple iPad Air M1 (2022). The table updates automatically.
Where to buy
Apple iPad Air M1 (2022) at the best price?
A design that always works
For its iPad Air M1 version 2022, Apple has not opted for the change in design. We will thus have a device that physically resembles the previous version of the Apple tablet, with its borderless look, its rounded corners or its recycled aluminum frame. The dimensions here will be similar to those of the iPad Air 2020 and the iPad Pro 11, i.e. 24.76 x 17.85 cm, but the whole will be a bit thicker (6.1 mm against 5.9 mm ) for a lighter weight (461 g against 466 g for the Wi-Fi versions). In short, finishes as impeccable as ever.
At the level of the screen, which is also compatible with the 2nd generation Apple Pencil, we will be entitled to a Liquid Retina panel as on the iPad Air 2020, which extends over 10.9 inches. True Tone display will also be available. On the other hand, here, no Face ID recognition behind or a TrueDepth camera, since the iPad Air still relies on its Touch ID fingerprint sensor on the ignition button of the tablet, on the upper edge. In addition, in its back, there will be a 12 megapixel sensor, and the front, a 12 Mpx ultra-wide-angle sensor with centered frame function for video calls.
The power of the M1 chip
Where the 2022 iPad Air M1 scores the most points is obviously in terms of its performance enabled by the M1 chip, based on ARM architecture and engraved in 5 mm, and which has already integrated, before the tablet , the brand's MacBook Air and Pro, as well as the newer iPad Pro and iMac. Concretely, the iPad Air M1 is as powerful as the entry-level iPad Pro. Demanding applications and games will run without slowing down, and it will also be possible to do multi-stream video editing via iMovie and photo editing with fluidity. The M1 chip is announced to be 60% faster in terms of CPU performance and twice as efficient in terms of graphics performance, that is to say.
Finally, on the autonomy side, Apple announces up to 10 hours of autonomy to browse the web in Wi-Fi or watch videos. During our test, during which we used the tablet intensively every day, the iPad Air lasted two days before going through the charging box. On the charging side, it will be a bit slow, since it will take 1 hour 45 minutes to reach 100% battery with the 20 W adapter. However, no fast charging here.
To find out even more, do not hesitate to read our complete test on the Apple iPad Air M1 (2022).
9 /10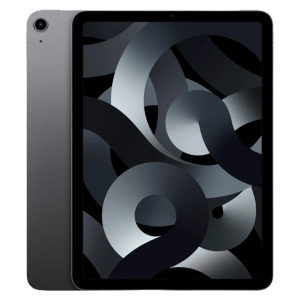 Winter sales: the best offers selected by Aroged's editorial staff
The Winter Sales officially started on Wednesday January 11, 2023 at 8 a.m. in France and will end on Tuesday February 7 at midnight. As of now, several merchants have already drawn their best offers. Here are the best offers from the sales in our live.
Our selections by product categories
Our selections by merchants
Our selections by brands
To make sure you don't miss out on any great deals from this event, here are a few reflexes to adopt right now so you don't miss any of the offers we recommend:
Follow us on our twitter account @ArogedPromos only dedicated to good deals (remember to activate the bell to receive notifications in real time) Download our Aroged application (available on iOS and Android) to activate notifications in the "Good Deals" category and thus receive new articles in real time related to the 2023 Winter Sales Subscribe to our Good Deals newsletter to be sure to receive the offers in preview (no more than one email per day, unsubscribe in 1 click, no distribution to third parties):
The data transmitted through this form is intended for Humanoid, publisher of the Aroged site in its capacity as data controller. They will in no case be transferred to third parties. This data is processed subject to obtaining your consent to send you by e-mail news and information relating to editorial content published on Aroged. You can oppose these e-mails at any time by clicking on the unsubscribe links present in each of them. For more information, you can consult our entire personal data processing policy. You have a right of access, rectification, erasure, limitation, portability and opposition for legitimate reasons to personal data concerning you. To exercise one of these rights, please make your request via our dedicated rights exercise request form.
Do you use Google News (News in France)? You can follow your favorite media. Follow Aroged on Google News (and Numerama).