If a new version of the iPhone SE was recently unveiled, the iPhone SE 2020, one of its ancestors, has lost none of its interest, quite the contrary. Especially since its price is no longer as high as before during these winter sales: it is thus offered, in its 128 GB version, at 399 euros instead of 529 euros on Cdiscount.
Launched in the spring of 2020, the iPhone SE should delight those nostalgic for the design of old Apple smartphones. It could indeed be confused with the iPhone 8, with its screen framed by wide bands, and especially this famous TouchID button which has completely disappeared from the brand's recent ranges. Despite this somewhat dated appearance, the iPhone SE 2020 is still updated today: it is therefore perfectly functional, and all the more recommendable as its price is much more affordable than other Apple devices. Its 128 GB version also benefits from a reduction of 130 euros currently.
The highlights of the iPhone SE 2020
A practical 4.7-inch screen An A13 Bionic chip An enduring smartphone
Initially offered at 529 euros, the iPhone SE 2020 (128 GB, white color) is now sold at 399 euros on Cdiscount. The 128 GB version in red is available at the same price.
It is also found in a 64 GB version at only 367 euros at Bouygues Telecom, without the obligation to take a mobile plan next.
If the offer mentioned in this article is no longer available afterwards, please take a look below to find other promotions for the iPhone SE 2020. The table is automatically updated .
Where to buy
Refurbished Apple iPhone SE 2020 at the best price?
An easy-to-handle smartphone
With its 4.7-inch Retina (TrueTone compatible) screen, the iPhone SE 2020 takes us back years, more precisely to the launch of the iPhone 8. Indeed, this iPhone SE has the same design as its predecessor, with the now disappeared TouchID button under the screen and more imposing borders. Nostalgics will appreciate this rather dated design, but the grip will be very pleasant and the smartphone will clearly not be imposing.
Honorable performances
On the performance side, the iPhone SE 2020 is equipped with the A13 Bionic processor, the ultra-powerful chip found in the iPhone 11 range. It is obviously not the most recent chip, but the smartphone will still be able to even handle any task without a hitch, including demanding games. Add to that 3 GB of RAM, less than the iPhone 11, but it will be more than enough with the optimization of iOS. Moreover, this SE released in 2020 is currently running iOS 16, the latest version of the Apple OS, and will be updated for many more years.
Unlike most current smartphones that have multiple sensors in their photo module, this iPhone SE is less versatile and only has a single 12-megapixel wide-angle sensor on the back. Here again we find a little air of yesteryear, but the smartphone still shows great versatility, with very good quality shots in broad daylight. Also note that portrait mode, video mode in 4K at 60 fps or Smart HDR will be available. For this price, it's more than you ask. The 7-megapixel front camera dedicated to selfies won't do miracles, but it's still enough for shots posted on social networks, for example.
Finally, on the autonomy side, if its 1,624 mAh battery seems rather limited on paper, iOS optimizations will allow it to last a day away from the charger. And wireless charging is even available.
To find out even more, do not hesitate to read our complete test of the iPhone SE 2020.
7 /10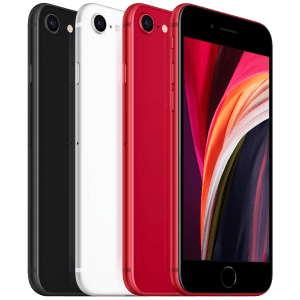 Winter sales: the best offers selected by Aroged's editorial staff
The Winter Sales officially started on Wednesday January 11, 2023 at 8 a.m. in France and will end on Tuesday February 7 at midnight. As of now, several merchants have already drawn their best offers. Here are the best offers from the sales in our live.
Our selections by product categories
Our selections by merchants
To make sure you don't miss out on any great deals from this event, here are a few reflexes to adopt right now so you don't miss any of the offers we recommend:
Follow us on our twitter account @ArogedPromos only dedicated to good deals (remember to activate the bell to receive notifications in real time) Download our Aroged application (available on iOS and Android) to activate notifications in the "Good Deals" category and thus receive new articles in real time related to the 2023 Winter Sales Subscribe to our Good Deals newsletter to be sure to receive the offers in preview (no more than one email per day, unsubscribe in 1 click, no distribution to third parties):
The data transmitted through this form is intended for Humanoid, publisher of the Aroged site in its capacity as data controller. They will in no case be transferred to third parties. This data is processed subject to obtaining your consent to send you by e-mail news and information relating to editorial content published on Aroged. You can oppose these e-mails at any time by clicking on the unsubscribe links present in each of them. For more information, you can consult our entire personal data processing policy. You have a right of access, rectification, erasure, limitation, portability and opposition for legitimate reasons to personal data concerning you. To exercise one of these rights, please make your request via our dedicated rights exercise request form.
To follow us, we invite you to download our Android and iOS application. You can read our articles, files, and watch our latest YouTube videos.