The Xiaomi 12 is a smartphone offering a premium experience with a more contained price. This is all the more true now that its price drops to 399 euros, for the 256 GB version, initially sold at 899.90 euros.
Xiaomi unveiled its new flagships a few weeks ago. On the other hand, the Xiaomi 13 do not yet have a release date in France. If you are therefore looking for a high-end smartphone from the brand, you should therefore go for the Xiaomi 12. The latter has premium features while maintaining a low price. It is also on promotion and even cheaper during the winter sales with 500 euros discount.
What are the strengths of the Xiaomi 12?
The compact and well-finished design The 6.28-inch AMOLED screen at 120 Hz The efficient fast charge
Offered at launch at 899.90 euros for its 8 + 256 GB version, the Xiaomi 12 is trading during the sales at only 399 euros on the Orange store.
If the offer mentioned in this article is no longer available afterwards, please take a look below to find other promotions for the Xiaomi 12. The table is automatically updated.
Where to buy the
Xiaomi 12 at the best price?
A nice smartphone pleasant in hand
Once in hand, the Xiaomi 12 has the effect of a small smartphone with a successful look in a world filled with large slabs. With a diagonal of 6.28 inches, it is really pleasant to handle due to its lightness and finesse. On the display side, the 12 relies on a very bright and contrasting Full HD + Amoled panel. It is very pleasant to watch content, and it is even more so with the two Harman Kardon speakers, compatible with Dolby Atmos. There is also a refresh rate capable of going up to 120 Hz for better fluidity in the interface.
On the back, there is a 50 megapixel main sensor, a 13 megapixel ultra wide-angle and a 5 megapixel telemacro. All in all, the Xiaomi 12 will be a good companion, especially thanks to its main lens, but it won't shine for budding photographers.
Everyday performance, and a welcome fast charge
Inside the Xiaomi 12, it's the Snapdragon 8 Gen 1 chip from Qualcomm that powers the whole thing. In our test, the smartphone raised the temperature to the point where it can even become unpleasant when playing games. This heating is brought in the context of intensive use and in particular when launching greedy games. Otherwise, this configuration is quite effective on a daily basis. You can still count on a smooth experience, and even on the 5G network. Note that you can also install the Android 13 beta.
Finally, to keep up, the Xiaomi 12 incorporates a 4,500 mAh battery. It does not shine for its endurance, which will keep it going for a day with moderate use, without going beyond that. Fortunately, its 67W fast charge saves the day since it allows you to recover quickly from the battery. In our test, Xiaomi's phone went from 28% to 98% charge in just 30 minutes.
To find out more, do not hesitate to consult our test on the Xiaomi 12.
6 /10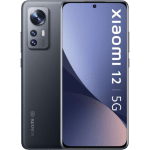 Winter sales: the best offers selected by Aroged's editorial staff
The Winter Sales officially started on Wednesday January 11, 2023 at 8 a.m. in France and will end on Tuesday February 7 at midnight. As of now, several merchants have already drawn their best offers. Here are the best offers from the sales in our live.
Our selections by product categories
Our selections by merchants
Our selections by brands
To make sure you don't miss out on any great deals from this event, here are a few reflexes to adopt right now so you don't miss any of the offers we recommend:
Follow us on our twitter account @ArogedPromos only dedicated to good deals (remember to activate the bell to receive notifications in real time) Download our Aroged application (available on iOS and Android) to activate notifications in the "Good Deals" category and thus receive new articles in real time related to the 2023 Winter Sales Subscribe to our Good Deals newsletter to be sure to receive the offers in preview (no more than one email per day, unsubscribe in 1 click, no distribution to third parties):
The data transmitted through this form is intended for Humanoid, publisher of the Aroged site in its capacity as data controller. They will in no case be transferred to third parties. This data is processed subject to obtaining your consent to send you by e-mail news and information relating to editorial content published on Aroged. You can oppose these e-mails at any time by clicking on the unsubscribe links present in each of them. For more information, you can consult our entire personal data processing policy. You have a right of access, rectification, erasure, limitation, portability and opposition for legitimate reasons to personal data concerning you. To exercise one of these rights, please make your request via our dedicated rights exercise request form.
Want to join a community of enthusiasts? Our Discord welcomes you, it's a place of mutual aid and passion around tech.