At Oppo, the Find X range is the most highlighted. Each generation is available in three versions, the ultra high-end version, the classic version and the light version. For the sales, Orange breaks the price of the Oppo Find X3 Lite. The latter is now offered at 199 euros instead of 449 euros at launch.
If you are looking for a powerful and versatile smartphone for a really affordable price, the Oppo Find X3 Lite is a good pick for you. Its technical sheet is better than most smartphones on the market offered for less than 200 euros, and, for the winter sales, we find it precisely lower than this price thanks to a 55% reduction on the original price of the telephone.
What to expect from the Oppo Find X3 Lite?
The Snapdragon 765G and Adreno 620 combo A Full HD+ AMOLED panel at 90 Hz 65 W super fast charge and wireless charging
Instead of the usual 449 euros, the Oppo Find X3 Lite is now available on sale at 199 euros on the Orange store.
If the offer mentioned in this article is no longer available, please take a look below to find other promotions for the Oppo Find X3 Lite. The table updates automatically.
Where to buy
Oppo Find X3 Lite at the best price?
A smartphone that still holds up
Launched in 2021, the Oppo Find X3 Lite remains a good smartphone in 2023. This is due to a still solid configuration. We have the Snapdragon 765G processor, which brings 5G, coupled with 8 GB of LPDDR4x RAM and 128 GB of UFS2.1 storage. It's a base on which you can get down to your daily activities smoothly and comfortably.
The screen of this smartphone is still as pleasant on a daily basis. This model features an AMOLED panel with 2,400 x 1,080 pixel definition and a density of 410 dpi. This gives a bright and fluid screen. The same is true for the interface based on Android 11 with the ColorOS overlay which allows a myriad of customization.
Successful design and impeccable finish
As usual, Oppo pays particular attention to the design of its smartphones. With the Oppo Find X3 Lite, we have a rear photo model, with quadruple sensor, in glass and a quality plastic back that grips well. At the front, the thin borders surround the 6.4-inch screen punctuated by a punch where the 32 Mpx front sensor is housed. The weight of 172 grams is well distributed, which improves the grip with its 73.4 x 159.1 x 7.9 mm dimensions.
The photo quality of this model is a credit to its range. The 64 Mpx main sensor offers more than adequate shots in most situations. The selfie sensor also does wonderfully well. As for video recording, we have 4K. Finally, this smartphone will easily last you a day, or even a day and a half, with moderate use with its 4,300 mAh battery. The 65W charger takes 40 minutes to charge to 100%. This model is also compatible with wireless charging.
To find out even more, do not hesitate to read our complete test on the Oppo Find X3 Lite.
7 /10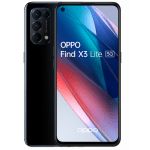 Winter sales: the best offers selected by Aroged's editorial staff
The Winter Sales officially started on Wednesday January 11, 2023 at 8 a.m. in France and will end on Tuesday February 7 at midnight. As of now, several merchants have already drawn their best offers. Here are the best offers from the sales in our live.
Our selections by product categories
Our selections by merchants
Our selections by brands
To make sure you don't miss out on any great deals from this event, here are a few reflexes to adopt right now so you don't miss any of the offers we recommend:
Follow us on our twitter account @ArogedPromos only dedicated to good deals (remember to activate the bell to receive notifications in real time) Download our Aroged application (available on iOS and Android) to activate notifications in the "Good Deals" category and thus receive new articles in real time related to the 2023 Winter Sales Subscribe to our Good Deals newsletter to be sure to receive the offers in preview (no more than one email per day, unsubscribe in 1 click, no distribution to third parties):
The data transmitted through this form is intended for Humanoid, publisher of the Aroged site in its capacity as data controller. They will in no case be transferred to third parties. This data is processed subject to obtaining your consent to send you by e-mail news and information relating to editorial content published on Aroged. You can oppose these e-mails at any time by clicking on the unsubscribe links present in each of them. For more information, you can consult our entire personal data processing policy. You have a right of access, rectification, erasure, limitation, portability and opposition for legitimate reasons to personal data concerning you. To exercise one of these rights, please make your request via our dedicated rights exercise request form.
Want to join a community of enthusiasts? Our Discord welcomes you, it's a place of mutual aid and passion around tech.