According to a study by the Federal Ministry of Transport in Germany, lithium and cobalt, necessary for the manufacture of batteries for electric cars, could be lacking in the coming years. Nevertheless, there are many alternatives that could avert disaster.
BMW i7
Right now
8 months Free on the ULYS electronic toll badge
It's a fact, electric cars have been growing in popularity over the years. In question, the various public policies aimed at encouraging motorists to abandon internal combustion vehicles as well as the growing choice on the market. Not to mention the innovations and other developments, which make it possible to increase autonomy and reduce the time spent at the terminal. In addition, there are more and more charging solutions, with a network that is constantly expanding, even in France.
A strong demand
With us, sales of electric cars have even exceeded those of diesel since the start of the 2022 school year. Proof if necessary that this motorization is more and more attractive, despite some brakes such as autonomy and price. Thereby, it now has a 13% market share. And demand is expected to increase over the next few years, as the European Union plans to ban the sale of internal combustion vehicles from 2035.
In Germany alone, these are then no less than 15 million 100% electric cars which should be on the roads by 2030, according to forecasts by the Federal Ministry of Transport. The article published by the Frankfurter Allgemeine Zeitung evoked a number of only one million at the end of the year 2022. But to ensure this progression, it will be necessary to have enough resources to manufacture all these cars. By way of comparison, in France, as of December 31, 2022, there were 1.1 million electrified cars (690,000 electric cars and 410,000 rechargeable hybrids).
And this is where it all gets complicated. Indeed, after the shortage of semiconductors, the automotive industry may have to face a shortage of batteries. And more particularly of materials, while the German government is sounding the alarm, just a few days after a similar position taken by Toyota, which hardly believes in the electric car.
According to German estimates, it will then be necessary 90,000 tons of lithium and 120,000 tons of cobalt to achieve this goal of 15 million cars. A figure that is not so alarming at first glance, when the annual production is respectively 105,000 and 165,000 tons.
Except that this one concerns the whole world. However, according to the International Energy Agency (IAE), it is no less than 130 million electric cars will be on the roads around the world by 2030. And there, that changes everything. Because in 2022, 46% of lithium production and 39% of cobalt are already used for the automotive industry alone. Figures that will rise to 157% and 133% respectively over the next eight years.
Another problem also arises: extraction. Because if electric cars are often described as "clean" and "zero-emissions", this is far from being the case. Because 63% of lithium comes from China, where the extraction conditions are both polluting and far from ethical. It is not better for cobalt, since 73% of total production comes from Congowhere only half of the mines are certified as having "at least basic occupational safety".
What solutions?
Thus, the whole world therefore depends on these two countries to be able to produce and sell electric cars. But is there a risk of a shortage? For now, the situation is still very vague for everyone, including specialists. Nevertheless, there are solutions to limit the damage. First of all, more and more manufacturers are choosing to smaller batterieslike Renault and Ford, as recently announced by its boss, Jim Farley, relayed by the Green Car Report site.
This solution makes it possible to limit the use of materials but also to reduce costs and therefore increase profits for brands. It is then made possible by the faster charge, which makes it possible to compensate for the slightly lower autonomy. Moreover, large batteries are not necessarily the most virtuous either, inevitably increasing the weight.
Audi factory
In addition, the recycling of batteries should not be neglected either, while certain brands, such as Tesla, which reaches a rate of 92%, are already specialists in the field. Volkswagen is aiming for 99% recycling over the next few years, in order to reduce the demand for lithium around the world. And you should also know that there are still many deposits that have not yet been exploited, whether in the form of mines or geothermal brines. We are still far from having exhausted all the resources in the world. In addition, we could therefore soon be driving cars using German or French lithium, reducing our dependence on China.
Finally, many companies, including CATL, are working on the development of sodium batteries, which then do not use lithium at all. The first should be installed on vehicles from the end of the year, probably on BYD models although the firm has denied these rumours. This technology, which however presents less density compared to conventional accumulators however, will allow us to wait before the arrival of solid-state batteries. These are denser and can therefore store more energy, offering more autonomy despite a reduced size.
Regarding cobalt, there are already lithium battery chemistries that do not use it. This is the case, for example, with LFP batteries, which are found in the Model Y Propulsion and in many electric cars. It does not include cobalt at all, unlike NMC and NCA lithium batteries.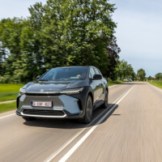 If Toyota has recently marketed its first electric car, the bZ4X, the Japanese firm has never believed in this engine and does not hesitate to let it be known. And this time, it's the chief scientist…
Read more

Do you use Google News (News in France)? You can follow your favorite media. Follow Aroged on Google News (and Numerama).