Currently, there are many models of robot vacuum cleaners. Among the safe bets, there is the Roomba i5 (5152) from the iRobot brand. This robot vacuum has an automatic cleaning function, but this is far from its main quality. For the winter sales, Amazon offers you the opportunity to have it cheaper: 329 euros instead of 449 euros.
The winter sales are an opportunity to get high-tech products at the best price. If you're looking for a 2-in-1 robot vacuum, the iRobot Roomba i5 (5152) is an affordable reference in the field. And, today, this model is even cheaper than usual thanks to this immediate discount of 27%.
What to expect from the iRobot Roomba i5 (5152)?
Intelligent on-board mapping Google Assistant and Alexa compatible Automatic updates and new features with iRobot OS
Instead of 449 euros usually, the iRobot Roomba i5 (5152) is now available on sale at 329 euros on Amazon.
If the offer mentioned in this article is no longer available, please take a look below to find other promotions for the iRobot Roomba i5. The table updates automatically.
Where to buy
iRobot Roomba i5 at the best price?
Housekeeping in tune with the times
To better clean your home, the iRobot Roomba i5 (5152) incorporates different technologies. One of them is smart mapping. The robot vacuum cleaner will therefore map your interior to better identify the environment, and if necessary, circumvent obstacles (animals, vacuum, foreign bodies, etc.) as well as adapt to different types of floors. This information helps him succeed in his mission. Thus, according to your preferences and habits, the device is able to make suggestions for even more effective cleaning.
For added efficiency, this model cleans in a parallel straight line. Cleaning is done in three steps: dislodging, vacuuming and sweeping. Its suction power has been designed to overcome the most stubborn dirt. So that hair and animal hair do not get entangled, which could clog the robot vacuum cleaner, this model has two rubber extractors.
Easy handling
The iRobot Roomba i5 (5152) has dimensions of 42 x 14 x 45 cm and weighs 3.18 kg. The capacity of the bin is 0.4 liters. To control it, you have the choice between the physical buttons that are on the upper part of the robot vacuum cleaner. This is also possible from a smartphone, in which case you need to download and install iRobot HOME. The last possibility concerns voice control through Google Assistant or Alexa.
The manufacturer announces an autonomy of 1h30 on this model. To fully charge it, it takes three hours. If it runs out of battery, it will return by itself to its charging base to be connected to the mains). Once recharged, it will pick up where it left off. Finally, two AA batteries, a charging base, two filters, including one in reserve, a power cable and the famous Virtual Wall are supplied with this robot vacuum cleaner.
5 /10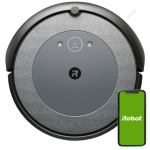 Winter sales: the best offers selected by Aroged's editorial staff
The Winter Sales officially started on Wednesday January 11, 2023 at 8 a.m. in France and will end on Tuesday February 7 at midnight. As of now, several merchants have already drawn their best offers. Here are the best offers from the sales in our live.
Our selections by product categories
Our selections by merchants
Our selections by brands
To make sure you don't miss out on any great deals from this event, here are a few reflexes to adopt right now so you don't miss any of the offers we recommend:
Follow us on our twitter account @ArogedPromos only dedicated to good deals (remember to activate the bell to receive notifications in real time) Download our Aroged application (available on iOS and Android) to activate notifications in the "Good Deals" category and thus receive new articles in real time related to the 2023 Winter Sales Subscribe to our Good Deals newsletter to be sure to receive the offers in preview (no more than one email per day, unsubscribe in 1 click, no distribution to third parties):
The data transmitted through this form is intended for Humanoid, publisher of the Aroged site in its capacity as data controller. They will in no case be transferred to third parties. This data is processed subject to obtaining your consent to send you by e-mail news and information relating to editorial content published on Aroged. You can oppose these e-mails at any time by clicking on the unsubscribe links present in each of them. For more information, you can consult our entire personal data processing policy. You have a right of access, rectification, erasure, limitation, portability and opposition for legitimate reasons to personal data concerning you. To exercise one of these rights, please make your request via our dedicated rights exercise request form.
Do you use Google News (News in France)? You can follow your favorite media. Follow Aroged on Google News (and Numerama).