After the P5, it's the turn of the new Xpeng P7 and G9 to arrive in Europe. The electric sedan and SUV are therefore now available for sale in Sweden, Denmark, Norway and the Netherlands. The XPeng G9 is one of the fastest charging electric cars.
Xpeng P7
Right now
8 months Free on the ULYS electronic toll badge
Ever heard of Xpeng? Chances are the answer is no. But rest assured, this is completely normal. Founded in 2014, the young Chinese brand is currently only marketed in its native country. Well almost, because it has started to slowly invade Norway, exporting its P5 sedan there since last April.
Like BYD or Nio, its main rivals, Xpeng also believes a lot in Europe to develop. Thus, the Asian firm, which recently lowered the prices of its cars in order to align itself with Tesla, wishes to invest massively in this market. Which is not without worrying specialists, who fear that the Old Continent is no longer a simple importer of Chinese cars, with all that that implies in terms of jobs and the environment.
Xpeng P7 and G9: two new electric cars in Europe
But that shouldn't stop the builder in its tracks. And for good reason, the latter has just published a press release in which he announces the launch of two new models in Europe. These are the P7 sports sedan and the G9 SUV. These are currently visible on the brand's stand during the eCar Expo currently taking place in Stockholm until February 5.
These two electric vehicles can therefore now be ordered in Sweden, Denmark, Norway and the Netherlands. On the other hand, not a word has yet been said about a possible arrival in France. If so, you may need a little patience. Indeed, the first deliveries of the P7 are not expected before June anyway, while cthey of the G9 will start in September next.
Competing respectively with the Tesla Model S and Model X, these two newcomers have already announced their prices for Europe. It will then be necessary count 49,990 euros in the Netherlands for the P7 RDW Long Range and 57,990 euros for the G9 RWD Standard Range. Rates which are likely to change if the two vehicles arrive in France, but overall, they should not be able to take advantage of the ecological bonus in all cases, while this is only accessible for cars under 47. 000 euros.
XPeng P7: in the footsteps of the Tesla Model 3
The P7 which has just landed in Europe is actually a restyled version and benefiting from a slightly reworked electric traction chain. So, if its potency doesn't seem to have changed, while Xpeng doesn't go into detail about it, 0 to 100 km/h is now achieved in 4.1 seconds, against 4.3 until then. Autonomy is announced at 576 kilometers according to the WLTP cycle for the entry-level Long Range version.
It then takes 29 minutes to recharge the battery from 10 to 80%, at a maximum power of 175 kW, which remains correct, but far from the 270 kW of the Porsche Taycan. But beware, the latter requires about 25 minutes on the same exercise, which proves that the charging curve is greater than the maximum power.
The sedan also boasts a fairly low Cd of just 0.236. For comparison, the most aerodynamic production car on the market is the Mercedes EQS with just 0.20, followed by the Hyundai Ioniq 6 with 0.21. The Tesla Model 3, meanwhile, announces a Cx of 0.23.
XPeng G7: a Tesla Model Y with hormones
For its part, the G9 has an 800-volt system and can withstand a charging power of up to up to 300kW. Thus, it can recover 100 kilometers of autonomy in five minutes, and only requires about twenty minutes to recharge its battery with a capacity of 98 kWh from 10 to 80%. The record is currently 18 minutes for the Kia EV6 and Hyundai Ioniq 5 thanks to their 800-volt technology.
The large SUV can then travel iup to 570 kilometers according to the WLTP cycle and displays a power of 551 horsepower for a torque of 717 Nm. The 0 to 100 km/h is then achieved in 3.9 seconds. A value identical to the standard Tesla Model X.
Level 2 autonomous driving, and soon more
The two electric cars are equipped with the XPILOT autonomous driving system, made operational thanks to 29 radar, millimetric and ultrasonic sensors. The brand is also in the process of developing an even more advanced device rivaling Tesla's FSD, which reaches level 3 thanks to the presence of a LiDAR. Called NGP, it is still in the test phase.
At the same time, Xpeng continues to develop its charging network, while the brand unveiled its own 480 kW terminal last August. On a demo XPeng G9, it was possible to go from 10 to 80% in just 15 minutes.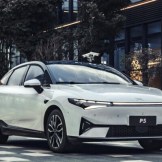 The Chinese manufacturer XPeng unveils its own autonomous driving system. Could it dethrone that of Tesla?
Read more

Do you use Google News (News in France)? You can follow your favorite media. Follow Aroged on Google News (and Numerama).