The Norwegian media Motor.no organized a major test between 28 electric cars to compare their autonomy in very cold weather. And it was ultimately the Tesla Model S that stood out, having managed to travel no less than 530 kilometers on a single charge. A real achievement.
Right now
8 months Free on the ULYS electronic toll badge
If things have improved significantly over the years, autonomy remains today one of the main obstacles to the purchase of an electric car. However, manufacturers and equipment manufacturers are constantly developing new batteries allowing more energy to be stored, such as semi-solid accumulators. A sort of transition pending the rise of solid batteries, which will not arrive for several years according to specialists.
Cold: the enemy of electric cars
In the meantime, it is still impossible to reach the symbolic bar of 1,000 kilometers, although some cars like the Zeekr 001 or the Lucid Air come close. This is due to the innovations of certain companies such as CATL, which designed the Qilin CTP 3.0 battery capable of offering record autonomy, as well as an ultra-short charging time. Because it is also important to rreduce the time spent at the terminalin order to go further, more quickly.
This is demonstrated in particular by the Norwegian YouTuber Bjørn Nyland with his 1,000 kilometer test where the Nio ES8 particularly shone, as did the Volkswagen ID. buzz. But this test measures the autonomy of cars in very variable conditions, with temperatures sometimes negative or going up to more than 20 degrees. This can then skew the results.
Nio ES8 Prime // Source : Nio
Because we know that the cold and electric cars do not mix. Indeed, the batteries need to be at an optimal temperature to operate, which requires a lot of energy. Thereby, autonomy is visibly decreasing, especially if you also use the heating and you do not have a heat pump. But it is sometimes difficult to concretely quantify the evolution of the autonomy between summer and winter, whereas the certification tests are generally carried out under optimal conditions.
The Norwegian media Motor.no wanted to investigate. For this, the journalists compared 29 electric cars, driving them until they broke down. under negative temperatures, between – 5 and -10 degrees Celsius. All segments and manufacturers were then represented during this life-size test, with the Nio ET7, Volkswagen ID.5, Mercedes EQE and the Renault Mégane E-Tech, among others.
A very good score for Tesla
Of course, Tesla's cars also went on the grill. And the least we can say is that they did pretty well. Finally, especially one, the Model S in this case. Indeed, thehe electric sedan will have managed to travel 530 kilometers on a single charge, during this test having taken place between Oslo and Hjerkinn. Thus, it is the only vehicle to have exceeded the 500 kilometer mark.
The InsideEVs site specifies that the previous record was held in 2021 by the Tesla Model 3 Long Autonomy, with 521 kilometers. During this test, the Model S lost only 16.4% of autonomy compared to the announced WLTP value, at 634 kilometers. Nevertheless, the Norwegian media specifies that the sedan could have gone even further, but that a technical problem has prevented from filling the battery over 98%.
The Model S is then followed by the BMW i7 xDrive60 with 424 kilometers, or 27.74% less than its announced autonomy, at 595 kilometers according to the WLTP cycle. Then comes the Mercedes EQE 300 which also did very well, having then been able to cover up to 409 kilometers. Nevertheless, the difference with the approved figure is of the order of 33.39%, whereas the electric sedan normally promises a range of 614 kilometers.
At the bottom of the ranking, we find the Maxus Euniq 6, a large SUV which is not currently marketed in France but which is in Norway, like the Nio, BYD or Xpeng models. He was then able to travel only 317 kilometers, against 354 announced. The MG Marvel R is doing a little better, having driven 308 kilometers, while its autonomy is promised at 370 kilometers WLTP. Finally, the MG 5 station wagon completes the bottom of the table, with 313 kilometres.
VoitureAutonomie WLTPAutonomie en hiverDifférence
Tesla Model S Standard634530−16,40%
Mercedes EQE 300614409−33,39%
BMW i7 xDrive60595424−28,74%
NIO ET7580434−25,17%
BMW i4 eDrive40565434−23,19%
Tesla Model X Plaid543444−18,23%
Nissan Ariya 2WD533400−24,95%
Volkswagen ID.5 Pro526378−28,14%
Byd Han521406−22,07%
Hongqi E-HS9 prototype 120 kWt515389−24,47%
Skoda Enyaq Coupe RS510338−33,73%
Toyota BZ4X 2WD503323−35,79%
Voyah Free501391−21,96%
Hongqi E-HS9465303−34,84%
Kia Niro EV460343−25,43%
Tesla Model Y 2WD455337−25,93%
Hyundai Ioniq 5 4WD454345−24,01%
Mercedes EQB 250452334−26,11%
MG ZS LR440352−20,00%
JAC e-JS4433323−25,40%
BMW iX1428337−21,26%
Renault Megane428318−25,70%
MG 4425338−20,47%
Kia EV6 GT424349−17,69%
BYD Atto 3420311−25,95%
Volkswagen ID Buzz408310−24,02%
MG 5380313−17,63%
MG Marvel R370308−16,76%
Maxus Euniq6354317−10,45%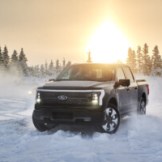 The range of an electric car varies greatly depending on road conditions and temperatures. But to what extent ? This is what the company Recurrent wanted to know, which compared twelve different models in winter. And the…
Read more

Want to join a community of enthusiasts? Our Discord welcomes you, it's a place of mutual aid and passion around tech.