The DJI FPV has everything of a professional drone, in particular with a helmet to provide immersion during piloting and of course high performance. This model is not within everyone's reach, but fortunately, its price drops for the winter sales. On Amazon, it goes from 1,349 euros at launch to "only" 749 euros today.
Although the DJI FPV is a model that is more aimed at professionals, the fact remains that this drone can be piloted by an amateur. And, if you want to get one, you can get a reduction of 600 euros from the original price on this model during the winter sales.
What to expect from DJI FPV?
Great autonomy for a range of 10 km Video recording in [email protected] fps with 150° wide-angle sensor Three flight modes and top speed km/h
Launched at 1,349 euros, but now displayed at a barred price of 1,029 euros, the DJI FPV is now available on sale at 749 euros on Amazon.
If the offer mentioned in this article is no longer available after that, please take a look below to find other promotions for the DJI FPV. The table updates automatically.
Where to buy the
DJI FPV at the best price?
A model that imposes
The DJI FPV is impressive to say the least with its 17.8 x 23.2 x 12.7 cm dimensions, this shows up to 25.5 x 31.2 x 12.7 cm when the propellers are extended. That said, you are entitled to a plug-and-play device with this drone as you don't have to assemble anything complicated. The total weight of the device is 795 g. When switched on, red LEDs begin to flash, which always has its effect.
Its 2000 mAh battery ensures 16 minutes of flight time, around 16.8 km distance, with a maximum speed of 140 km/h over a range of 10 km. In fact, the drone works with the helmet and of course the radio control. Once the drone is in the air, you'll get real-time flight info through the headset. This makes piloting precise, but above all immersive.
Impressive Features
The DJI FPV is irrevocably a special drone in light of its performance. Each eye has a 2-inch screen with a resolution of 1440 x 810 pixels at 60 IPS as well as 142° of field of vision. Added to this is a low latency of around 28 ms. You then have a better synchronization between your commands and what you see on the screen.
This drone also impresses on its graphics performance. The device has a read speed of 120 Mb/s. Combined with video recording in [email protected] fps, this gives videos in H.264 or H.265 formats of good quality. As standard, this model has a wind resistance of 13.85 m/s. With RockSteady technology, DJI FPV videos are particularly stable.
To find out even more, do not hesitate to read our complete test on the DJI FPV.
8 /10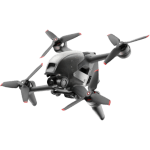 Winter sales: the best offers selected by Aroged's editorial staff
The Winter Sales officially started on Wednesday January 11, 2023 at 8 a.m. in France and will end on Tuesday February 7 at midnight. As of now, several merchants have already drawn their best offers. Here are the best offers from the sales in our live.
Our selections by product categories
Our selections by merchants
Our selections by brands
To make sure you don't miss out on any great deals from this event, here are a few reflexes to adopt right now so you don't miss any of the offers we recommend:
Follow us on our twitter account @ArogedPromos only dedicated to good deals (remember to activate the bell to receive notifications in real time) Download our Aroged application (available on iOS and Android) to activate notifications in the "Good Deals" category and thus receive new articles in real time related to the 2023 Winter Sales Subscribe to our Good Deals newsletter to be sure to receive the offers in preview (no more than one email per day, unsubscribe in 1 click, no distribution to third parties):
The data transmitted through this form is intended for Humanoid, publisher of the Aroged site in its capacity as data controller. They will in no case be transferred to third parties. This data is processed subject to obtaining your consent to send you by e-mail news and information relating to editorial content published on Aroged. You can oppose these e-mails at any time by clicking on the unsubscribe links present in each of them. For more information, you can consult our entire personal data processing policy. You have a right of access, rectification, erasure, limitation, portability and opposition for legitimate reasons to personal data concerning you. To exercise one of these rights, please make your request via our dedicated rights exercise request form.
Want to join a community of enthusiasts? Our Discord welcomes you, it's a place of mutual aid and passion around tech.