The iRobot Roomba i7+ combines suction efficiency, ease of use and automation of dust emptying thanks to its station. A good ally for the household therefore, especially since it is 549 euros against 1,199 euros when it comes out.
The Roomba i7+ is a premium robot vacuum from the iRobot brand. In addition to providing powerful suction to eliminate dust, it has an additional advantage, that of being sold with an emptying station so that you don't have to worry about anything. And, the good news is that today, he benefits from a reduction of 650 euros thanks to this offer for the end of the sales.
The main thing to remember about the iRobot Roomba i7+
An effective vacuum to clean your floors Learns and suggests routines With an automatic emptying system
Sold at its release at 1199 euros, the iRobot Roomba i7+ vacuum robot with its automatic emptying station is now much more accessible and is trading at 549.99 euros on Amazon.
If the offer mentioned in this article is no longer available, please take a look below to find other promotions for the iRobot Roomba i7+. The table updates automatically.
Where to buy
iRobot Roomba i7+ at the best price?
Well equipped for effective cleaning
The iRobot Roomba i7+ takes advantage of the brand's know-how, and does not lack power. With its two rubber brushes, it is able to adapt to different types of floors, from tiles to carpets and parquet, to pick up animal hair, dust and other dirt that accumulates on your floors. And, not to forget any place, side brushes take care of their side to suck up the dust near the walls or in the recesses.
It will be able to slip under many pieces of furniture thanks to its circular design and its height not exceeding 10 cm. Packed with sensors, it easily locates itself in your home, and avoids obstacles in order to continue its cleaning routine.
And who is precise and autonomous
This robot vacuum cleaner will map your home using a camera and a proximity sensor, which will be used in particular to manage obstacles. The plans thus recorded will all be accessible on the dedicated application. The latter gives the possibility of planning passage times when you are at home or outside, choosing a particular room to clean, controlling the robot remotely or even ordering it to avoid certain areas.
With its self-emptying system, the robot will empty the dirt collected autonomously for a period of up to 60 days. They will all be poured into an anti-allergen bag to capture pollen or mold. Hygiene will therefore be ensured at all times, especially since this bag closes very easily so as not to have to touch the dust sucked up by the robot. Finally, it will take no more than 60 minutes to use its services. When the robot breaks down, it will recharge and can resume its work where it left off. Note, the Rombe i7+ is compatible with Google Assistant and Alexa voice assistants to be able to order it, by voice, to start its task.
9 /10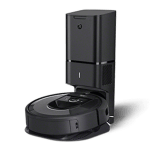 To help you in your choice, we invite you to consult our complete test on the iRobot Roomba i7+.
Winter sales: the best offers selected by Aroged's editorial staff
The Winter Sales officially started on Wednesday January 11, 2023 at 8 a.m. in France and will end on Tuesday February 7 at midnight. As of now, several merchants have already drawn their best offers. Here are the best offers from the sales in our live.
Our selections by product categories
Our selections by merchants
Our selections by brands
To make sure you don't miss out on any great deals from this event, here are a few reflexes to adopt right now so you don't miss any of the offers we recommend:
Follow us on our twitter account @ArogedPromos only dedicated to good deals (remember to activate the bell to receive notifications in real time) Download our Aroged application (available on iOS and Android) to activate notifications in the "Good Deals" category and thus receive new articles in real time related to the 2023 Winter Sales Subscribe to our Good Deals newsletter to be sure to receive the offers in preview (no more than one email per day, unsubscribe in 1 click, no distribution to third parties):
The data transmitted through this form is intended for Humanoid, publisher of the Aroged site in its capacity as data controller. They will in no case be transferred to third parties. This data is processed subject to obtaining your consent to send you by e-mail news and information relating to editorial content published on Aroged. You can oppose these e-mails at any time by clicking on the unsubscribe links present in each of them. For more information, you can consult our entire personal data processing policy. You have a right of access, rectification, erasure, limitation, portability and opposition for legitimate reasons to personal data concerning you. To exercise one of these rights, please make your request via our dedicated rights exercise request form.
Do you use Google News (News in France)? You can follow your favorite media. Follow Aroged on Google News (and Numerama).