Nissan announces the launch of a car equipped with solid batteries by 2028. An announcement which follows the start of a new prototype factory located within Nissan Research Center in Kanagawa prefecture in Japan. In practice, the manufacturer announces a charging time divided by three and an energy density doubled. What drastically increase autonomy and reduce production costs.
Concept Nissan Max Out
Right now
8 months Free on the ULYS electronic toll badge
Today, electric cars are more and more successful and above all, they are meeting with growing success, having even overtaken diesel in France last December. While all manufacturers are developing their electric range, in anticipation of the 2035 deadline, there are still a few points to improve in order to attract customers who are still resistant and make this engine suitable for everyone.
A promising technology
This particularly concerns autonomy, which still remains one of the main obstacles for motorists, as well as the price. Problems which are also linked, while the cost of the battery accounts for around 40% of the price of the car. This is in particular why certain manufacturers, such as Ford or Renault, recommend using smaller accumulators.
A strategy that allows limit the use of lithium, the price of which increases and the supply decreases, so much so that some even fear a shortage. However, who says small battery says low autonomy. It is the serpent biting its own tail. And this even if a large battery is also not an ideal solution, due to the increase in weight. But then, how?
Audi factory, for illustration
One of the solutions considered by manufacturers is then the use of solid-state batteries. This very promising technology differs from conventional lithium batteries by the use of a solid electrolyte. Concretely, this system offers better energy density, multiplied by two. Which means that for the same size, more electricity is stored. This would be beneficial to weight and autonomy, while also costing less since Nissan announces 50% in cost reduction.
The other big advantage of the solid-state battery is that you don't need lithium or cobalt. Something to reassure about the risk of shortages, as Toyota points out, for example.
1,000 km range?
If we take the Nissan Ariyra's range of 520 km, doubling the energy density would mean switching to a range of around 1,000 km on the WLTP combined cycle. It is then better than current models like the Zeekr 001 which tops out at 1032 km, on the Chinese CLTC cycle with a conventional, heavy and bulky lithium battery of 140 kWh.
On paper, therefore, there are only advantages. However, solid-state batteries are still difficult to mass-produce and very expensive to develop. This does not prevent manufacturers from working on it, including Nissan, which is currently one of the most advanced in the field. Questioned by the British site Autocar, David Moss, vice-president of research and development of Nissan in Europe rightly spoke on the subject.
Arrival before 2028
He then explains thata first car equipped with a solid battery should see the light of day by 2028. A date which may seem distant, but which is not that much, while specialists claimed that this technology would not see the light of day for at least a decade. But before the arrival of this car, which could be prefigured by the Max-Out concept just unveiled, there will be several stages.
The first will be the commissioning of the plant dedicated to the production of these cells from 2025. One year later, Nissan teams plan to have completed the study of this technology. It will then be necessary to work on mass production, which is still a problem at the present time. However, some companies are already well advanced, such as the start-up Solid Power which will test a new production line in partnership with BMW.
A Solid Power battery cell // Source: Solid Power
A recharge in 10 minutes
According to Nissan, this technology would notably make it possible to halve the charging time, thanks to increased power from 130 to 400 kW. It is then the equivalent of that delivered by the terminals of Fastned and Circontrol in Europe.
Above all, if the maximum power is up, the average power should be drastically higher. As we explain in our file on the charging curve. We would therefore go from 10 to 80% in about 10 minutes. Against 18 minutes for the best electric cars currently.
The first car equipped with solid batteries should then based on a new platformwhile the brand gives very little information for the moment.
Anyway, this one is not the only one working on the development of this technology. This is indeed also the case for BMW, Ford and Mercedes, among others. The firm with the star then signed a partnership with the company ProLogium, which could manufacture its solid state batteries in France. But in the meantime, some equipment manufacturers are working on the design of semi-solid batteries, capable of reaching 80% in 10 minutes.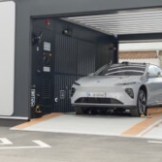 When testing the Nio ET7 electric car, we were able to try out the battery exchange system (Nio Power Swap Station) which allows the batteries to be "recharged" in five minutes. The result is…
Read more

Do you use Google News (News in France)? You can follow your favorite media. Follow Aroged on Google News (and Numerama).