If Bouygues Telecom is best known for being an operator, you can sometimes find good deals on its website. Currently, the Apple AirPods Pro benefit from an ODR which makes it possible to obtain these wireless headphones with noise reduction for only 174.99 euros.
Even if the Apple AirPods Pro date from 2019, these true wireless still turn out to be good in 2023. Of course, their price has dropped and that's why we're talking about them today. They will cost you less right now since they cost 41% less compared to their initial value.
What to expect from Apple AirPods Pro?
Good battery life Excellent synchronization with iOS Good sound quality
Instead of 299 euros usually, the Apple AirPods Pro are now available on sale at 174.99 euros with an ODR of 40 euros at Bouygues Telecom.
The offer is available until February 26, 2023 // Source: Bouygues Telecom.
If the offer mentioned in this article is no longer available, please take a look below to find other promotions for Apple AirPods Pro. The table updates automatically.
Where to buy
Apple AirPods Pro at the best price?
Effective active noise reduction and Transparent mode
During the official presentation of the Apple AirPods Pro, the Cupertino company did not fail to highlight the sound functions of the wireless headphones. On the one hand, there is the active noise reduction which reveals its full performance by effectively eliminating parasitic noise. This is a must if you want to isolate yourself or concentrate. On the other hand, there is the Transparent mode which clearly retransmits ambient noise.
To ensure the sound performance of the AirPods Pro, the Apple brand equips them with the H1 chip. In addition to being economical, the latter has the particularity of accelerating connection time and optimizing conversations. Dolby Atmos technology is part of this model. It is simply a guarantee of sound quality. It is its spatial audio function that makes the most of it by delivering 5.1 and 7.1 surround sound reproduction.
Ergonomics and autonomy well worked
Apple AirPods Pro are light and thin, with stems pointing towards the mouth. Each earbud weighs 5.4g and with the case that rises to 45.6g. This facelift brings a certain comfort to the use of these true wireless headphones. On these are printed the letters L and R to distinguish the right earpiece from the left. Although optimized for iOS, they are Android compatible, but with less functions.
In terms of battery life, Apple announces between 4.5 and 5 hours of listening time, with ANC activated or not. With the MagSafe box, the autonomy reaches 24 hours. According to the manufacturer, to recover one hour of listening time, it takes five minutes to recharge. You should know that these wireless headphones are compatible with Qi wireless charging and of course Lightning fast charging.
To learn even more, do not hesitate to read our complete test on the Apple AirPods Pro.
8 /10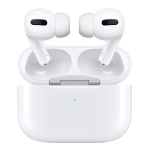 Alternatives to Apple AirPods Pro?
To find out which model suits your needs and your budget, we invite you now to consult our guide on the best wireless headphones of the moment on Aroged.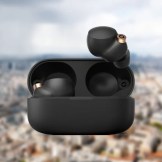 More compact than headphones and without bothering with any wires, Bluetooth headphones are excellent everyday companions. Here's our full pick of the best wireless earbuds available in 2023.
Read more

To follow us, we invite you to download our Android and iOS application. You can read our articles, files, and watch our latest YouTube videos.