For casual players, a snapshot doesn't change much.
The Java version of Minecraft received a large technical snapshot 23W06A. The developers who have recently added the content of the next major update decided to implement several new features at the engine level.
The update introduces several new entities and commands to Minecraft, and also fixes a number of bugs, including gameplay ones. For most ordinary players, a snapshot will change almost nothing: first of all, it is of interest to modders and developers of complex projects based on Minecraft.
Major changes to snapshot 23W06A
An option has been added to the settings that controls the camera sway when taking damage.Improved the world creation screen: now you can navigate through the tabs using Ctrl-Tab.A screen has appeared in the world creation interface where experimental functions are grouped.Now running players emit note particles in the same way as in Minecraft Bedrock. Added new entities: ITEM_DISPLAY, TEXT_DISPLAY and BLOCK_DISPLAY: The first one displays an item, the second one – text, the third one – a block. Objects drawn with new entities are not calculated by the physics engine. From a logical point of view, they work like a marker. One of the parameters allows the entity to always face the player. Another parameter allows you to override the lighting value. You can also set the size and strength of the shadow of the entity.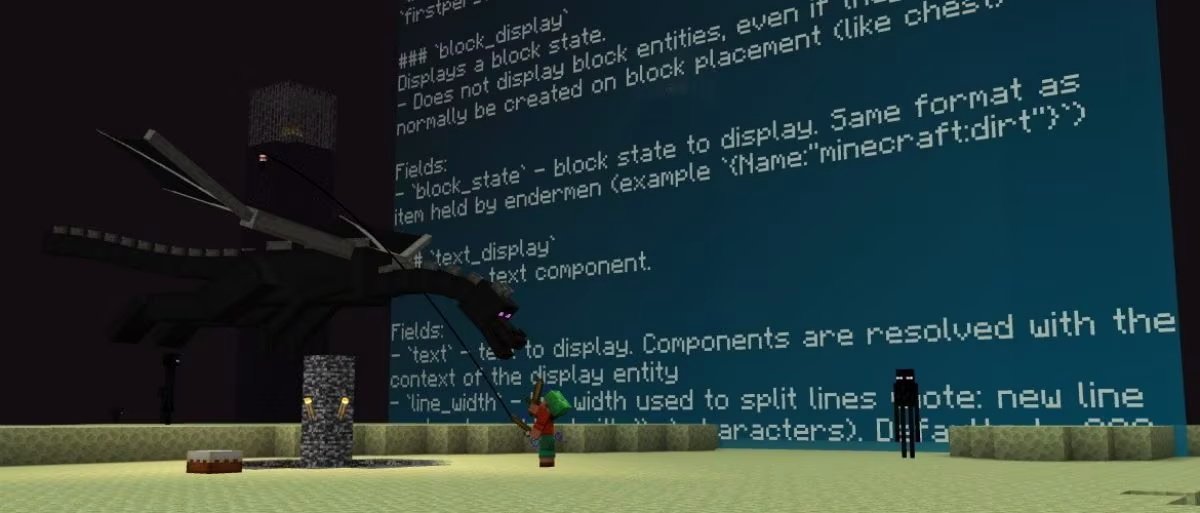 The Damage command has been added that allows you to damage entities: It works like this: damage The amount parameter is responsible for the amount of damage inflicted, damageType sets the type of damage. With the help of datapacks, you can now create your own damage types that expand the corresponding register. When creating damage, you need to set its scaling, you can specify the effect (e.g. drowning).Fixed a lot of bugs related to scalk-sersors.Opening a minecart with a loading funnel no longer provokes piglins.Fixed various issues with displaying text on buttons and other UI elements.Fixed bugs with playing sounds when interacting with equipment.Now the Keeper deals the same damage to the player and other entities. Fixed bugs related to the ride command. Using it will no longer result in desynchronization with the server.
To install the pre-release version, you must enable the installation of snapshots in the settings of the Minecraft launcher. The full list of changes in snapshot 23W06A is published here.
This is interesting