Philips has unveiled bone conduction headphones and wireless headphones for sports, with multipoint Bluetooth compatibility and support for the new LC3 codec.
Philips Go A5508 wireless headphones // Source: Philips
This is the big unboxing at Philips. While the Dutch manufacturer presented its high-end headphones and earphones, the Fidelio T2 and Fidelio L4, it is not done with its audio products. During its annual event held in Amsterdam, the firm also lifted the veil on several audio products dedicated to athletes, the Philips TAA5508 and TAA5608.
These two new products are the latest additions to the Dutch brand's GO Sport range and come in two distinct forms. Behind these abstruse names, in fact, hide wireless headphones, the Philips Go A5508, and bone conduction headphones, the Philips Go A5608.
A multipoint Bluetooth headset and earphones with LC3 codec support
The Philips Go A5508 earphones are specifically dedicated to sports. They benefit from 8 mm diameter transducers and compatibility with Bluetooth 5.3, but also with the new LC3 codec integrated into the Bluetooth LE Audio profile. More original for headphones designed for sport, they are equipped with an active noise reduction function. The headphones are also compatible with multipoint Bluetooth to use them at the same time with a smartphone and with a computer. Regarding autonomy, Philips announces that its Go A5508 headphones can operate for seven consecutive hours with noise reduction – with an additional 21 hours thanks to the case. Finally, they are naturally certified against sweat and splashes thanks to an IPX5 certification.
The Philips Go A5608 bone conduction headphones // Source: Philips
Regarding the bone conduction headset, the Philips Go A5608, it is a headset in neck format, like what the Shokz brand offers. We are dealing here with a helmet whose transducers rest on the temples so as not to obstruct the auditory canal and still perceive its environment. In addition, the helmet also incorporates an LED on the back to be visible outdoors. We will also find Bluetooth 5.3, the LC3 codec, a six-hour battery life, a multipoint connection and an IPX5 certification.
For now, Philips has not announced the price of its bone conduction headphones and wireless headphones. The Dutch brand is also content to announce availability "this year", without further details for the moment.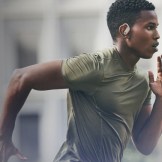 If you are athletic, whether occasional or regular, maybe you like to do your exercises to music. We have therefore prepared for you a selection of the best wireless headphones for…
Read more

To follow us, we invite you to download our Android and iOS application. You can read our articles, files, and watch our latest YouTube videos.