Seven years after part 2, Elon Musk is about to unveil part 3 of his famous Master Plan. This will indeed be formalized on March 1, during Investor Day. Electric cars will not be the only subject discussed by the brand, which is also working on the development of its energy storage solutions. Elon Musk announces "the path to a fully sustainable energy future for the Earth".
Right now
8 months Free on the ULYS electronic toll badge
It has already been seven years since Elon Musk presented his Master Plan Part Two, a document still visible on Tesla's website describing all the next steps for Tesla. The latter was then unveiled ten years after the first part, which announced the beginnings of the development of the manufacturer, which then planned to launch a low-volume car (the Tesla Roadster which has just celebrated its 15th anniversary) whose the profits would make it possible to market a more general car (the Tesla Model S of 2012). This would then finance the development of an even more affordable vehicle with greater ambitions: the Model 3.
new projects
In 2016, the brand had achieved all these objectives, while thehe compact sedan was officially revealed on March 31 of the same year. It was therefore in June that Tesla lifted the veil on its Master Plan Part Two, which notably announced the arrival of the autonomous driving system FSD (full self-driving) as well as the arrival of a new model making it possible to cover all the segments. It is then the Model Y, which has become the best-selling electric car in Europe over a month.
Tesla also already mentioned its desire to diversify its activities by developing systems for storing energy via its solar roofs for houses. She also wanted her cars to bring money back to their owners when not in use. For this, Teslas could then become autonomous taxis, allowing you to make the most of the times when they would simply be parked.
Master Plan 3, the path to a fully sustainable energy future for Earth will be presented on March 1.

The future is bright! pic.twitter.com/11ug0LRlbD

— Elon Musk (@elonmusk) February 8, 2023
A goal that has not yet been achieved, but which could be with the arrival of the Robotaxi. The latter will be based on a new platform that it will share with the future Model 2 which could be announced on March 1, during Investor Day organized by Elon Musk. This day, which will allow the manufacturer to communicate on its progress, will also be an opportunity to unveil its plans for the future, through the third part of its Master Plan.
Information unequivocally confirmed by the leader himself on Twitter, who describes this new installment as "the path to a fully sustainable energy future for Earth". And for good reason, if the automobile will be at the heart of the projects, Tesla still wants to diversify a little more, by developing its energy-related activities while the power grid is currently live.
New factories, but not only
As the Electrek site explains, the manufacturer had already claimed that the Master Plan Part 3 would consist of "reaching a very large scale" in the production of vehicles and batteries. An index that seems to confirm the presentation of the Model 2, which would display a price of around 25,000 dollars thanks to the use of new 4680 cells that are less expensive to produce and offer better energy density, and therefore increased autonomy.
Tesla could also announce construction of a new factory, as she seeks to establish herself in Mexico. The firm has already reached an agreement with the state of Nuevo Leon to open a site in the city of Santa Catarina, which would be operational this year. It would increase production and reduce delivery times for the brand, which was about to have a particularly difficult year, before drastically reducing the price of its electric cars.
Tesla Model 3
On this occasion, Elon Musk should also speak about the development of its energy storage solutions, while Tesla today offers its Powerwalls for home use and its Powerpacks for businesses. Perhaps she will talk in more detail about her future V4 Superchargers, equipped with solar panels and capable of storing electricity that can be used in the event of a voltage on the network.
We will now have to wait a few more weeks to find out more about this highly anticipated next Master Plan. For the time being, Tesla is working on the launch of its Cybertruck, expected for this summer, as well as that of the Roadster, which was originally scheduled for release in 2022.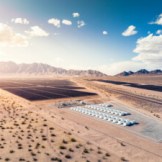 Apart from electric cars, what do the American Tesla and the Chinese Nio have in common? Their ability to build virtual power plants, in order to become energy providers. We explain how.
Read more

Do you use Google News (News in France)? You can follow your favorite media. Follow Aroged on Google News (and Numerama).