A true benchmark in the office computer market, Dell's reputation is second to none, as is the quality of its products. At the moment, the American giant is applying a nice reduction on one of these latest laptops. The Dell XPS 13 is available at a price of 1099.01 euros instead of 1699.01 in the official store.
Source: Chloé Pertuis – Aroged
Dell's XPS series computers were originally designed to compete with Alienware in the gaming field and ultimately offer high-performance and easy-to-carry laptops. The latest model, the Dell XPS 13 (9315), is currently the subject of a nice reduction. With a discount of 600 euros, this laptop finally becomes very interesting.
What Dell Quality Gives Us
A sober design and a beautiful FHD+ screen The latest generation Intel Core i7 processor Compact dimensions to carry it everywhere
Instead of the usual 1699.01 euros, the Dell XPS 13 (with Intel Core i7) is now available on sale at 1099.01 euros in the official store.
If the offer mentioned in this article is no longer available after that, please take a look below to find other promotions for the Dell XPS 13 (9315). The table updates automatically.
Where to buy the
Dell XPS 13 (9315) at the best price?
Dell, true to itself with this XPS 13
When Dell releases a new model of laptop, you should never expect something revolutionary. The American manufacturer generally confines itself to updating components while remaining faithful to the quality of manufacture and the elegance of its chassis. Quiet strength, what. In the case of the XPS 13, we find a chassis with ultra-thin dimensions with a thickness of 13.99 mm and a weight of around 1 kg. Dell focuses above all on the practical aspect of its laptops so that workers can take them everywhere.
The InfinityEdge screen is a non-touch IPS panel with a resolution of 1,920 x 1,200 pixels, an aspect ratio of 16:10, with a refresh rate of… 60 Hz. A bit poor for 2023. Note, however, that a feature allows to upgrade the resolution to 4K. Screen brightness recorded 490 cd/m² during our test and sRGB coverage exceeded 100%, giving us good colours.
On the connection side, this Dell XPS 13 offers us the union minimum, namely two USB-C ports. A USB-A port, HDMI or an additional microSD card reader would not have been refused.
The 12th generation of Intel in the belly
This is the great novelty in this XPS 13, so to speak. Dell has included a 12th Gen Intel CPU to keep its configuration up to date. The Intel Core i7-1250U is a 10-core, 12-thread processor capable of reaching a maximum frequency of 4.7 GHz, here it is supported by 16 GB of LPDDR5 RAM at 5,200 MHz. The dedicated GPU is an Intel Iris Xe capable of good performance since gaming becomes possible on this ultraportable, provided you don't ask too much. But given the general characteristics, it is more likely that you will use this laptop to work and the graphics card will be used in particular for photo and video editing. Storage is provided by a 512GB NVMe SSD.
Thanks to its autonomy of 9 hours in average use, this Dell XPS 13 will hold up for a working day, it will however be necessary to deactivate the 4K option which is very energy-intensive. Finally, we allow ourselves an honorable mention for the loudspeakers, among the best on the market with power and quality that will amaze many.
For even more, read our full Dell XPS 13 review.
7 /10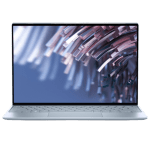 Want a new ultraportable?
In order to compare the Dell XPS 13 with other products in the same category, we invite you now to consult our guide on the best laptops in 2023.
Are you looking for a new laptop? Apple MacBook, Dell XPS, Asus Zenbook and ROG… We have compared many models to help you find the best laptop in 2023.
Read more

Do you use Google News (News in France)? You can follow your favorite media. Follow Aroged on Google News (and Numerama).