Part purifier, heater, and fan, the Dyson HP7A Purifier Hot+Cool AutoReact is a handy device that lets you live in a less polluted space. And, at the moment, it is no longer as expensive as before since it is offered at 499 euros instead of 649 euros on Ubaldi.
If Dyson is well known for its famous silent and powerful vacuum cleaner brooms, the British brand has also stood out thanks to its air purifiers, which have the advantage, for some, of offering several functions. This is for example the case of the HP7A Purifier Hot+Cool AutoReact model which, as its name suggests, is both an air purifier, a fan and a heater. It is therefore not surprising that its base price is quite high, but fortunately, a reduction is currently available to reduce the bill by 150 euros.
The Dyson HP7A Purifier Hot+Cool AutoReact in a nutshell
A three-in-one purifier Captures more than 99% of harmful particles in the air Oscillates up to 350°
First displayed at 649 euros, the Dyson HP7A Purifier Hot+Cool AutoReact is now offered at 499 euros on Ubaldi.
An effective purification
The Dyson HP7A Purifier Hot+Cool AutoReact is first and foremost an air purifier which is responsible for detecting harmful particles and pollutants present in your home to capture them thanks to its HEPA filters, positioned at 360° at the base of the machine. 'device. Thanks to its filtration system, this device will be able to eliminate more than 99% of particles as small as viruses, that is to say. Pollen, dander from our little hairballs, bacteria, allergens… The purifier will make short work of it, and will also take care, at the same time, of eliminating unpleasant odors that could hover in your rooms.
The Dyson purifier also has Air Multiplier technology, which generates a steady flow of 290 liters of air per second, allowing us to enjoy purified air in the room. The device can also display the air quality of your interior.
A three-in-one device
Not only is the Dyson HP7A Purifier Hot+Cool AutoReact capable of purifying the air in your home, but it can also act as a fan or heater, depending on the season. By activating the heating function, the machine will project heated air into the room, before stopping when the desired room temperature is reached. On the contrary, if you choose the fan function, a powerful purified air will then be diffused. On the other hand, if you do not want to receive fresh air in the face, but you still want the purifier to act in your interior, you can activate the "Ambient" mode. The latter will take care of projecting the airflow at the back of the device.
To top it all off, the Dyson HP7A Purifier Hot+Cool AutoReact won't smudge your interior with its rather sleek and modern design, which differs from the bulkier looks of other purifiers. In addition, true to its brand identity, the device will be silent even in operation.
The best references to purify your interior
If you want to discover other references before making your final choice, we invite you now to consult our guide to the best air purifiers of 2023.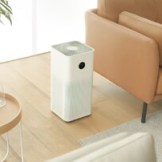 Air purifiers filter ambient air and rid it of pollutants and allergens. To help you choose the right one for your interior, we've put together the…
Read more

Want to join a community of enthusiasts? Our Discord welcomes you, it's a place of mutual aid and passion around tech.