Beginning its history with very expensive models, Tesla has managed the feat of halving the price of its cars over the past five years, while drastically increasing its margins. But the firm could go even further, thanks in particular to its future Model 2 which could soon be revealed.
Right now
8 months Free on the ULYS electronic toll badge
Since its inception, Tesla has always had a premium brand positioning, notably offering a Model S and later a Model X with very high prices. This is also still the case, while the two stars of the range are respectively displayed from 113,990 and 121,990 euros, which makes them ineligible for the ecological bonus. A strategy then announced in the first part of the Master Plan unveiled in 2006, which describes a range starting at the top and then a gradual reduction in prices.
Prices halved
A few days before the revelation of the 3rd part of the Master Plan, on March 1st, the Electrek site draws up a quick assessment. And the least we can say is that Elon Musk's firm seems to have kept its promises. Indeed, she succeeded in dividing double the price of his cars within a very short period of only five years. A real tour de force on the part of the manufacturer, while its rivals tend to increase their prices.
We think for example of Renault, which has revised the prices of its Mégane E-Tech upwards as well as its electric city cars. This is also the case of Dacia which has increased the price of its Spring. Very different strategies from Tesla, therefore, which a few weeks ago made a significant price drop on its Model 3 and Model Y, going up to 13,000 euros in one night. A fall that follows the difficulties of the brand, especially in China and the United States.
As Electrek explains, the now Texas-based company has managed to sharply reduce the price of its cars while increasing its operating margin. So, this has increased from -15% to more than 15% in five years. A very good result, which is partly explained by the savings made by the brand by selling its cars directly, without going through a traditional dealer network. In addition, Tesla spends almost nothing on advertising and communication.
This is how it finally became profitable in 2021 (without taking into account carbon credits), with a market capitalization exceeding 1,000 billion dollars. Although it fell sharply, it finally started to rise again at the start of the year. What reassure investors, while the firm was preparing to spend one of the worst years in its history, due to Chinese competition. But that was before the price war!
Towards a new decline
This is one of the reasons why the firm decided to drastically reduce its prices, causing a real snowball effect on the market and declaring a price war in which Xpeng, VinFast, Lucid and even Ford are engaged. If Tesla is used to playing yo-yo with the prices of its cars, this is the first time that such a sharp and sudden drop has been recorded.
But traditional builders will have to get used to it, while the brand's models should cost even less in the future. And this, we owe it to the arrival of a brand new, less expensive platform, which will be inaugurated by the future Tesla Model 2 or the restyling of the Model 3 (Project Highland). If few details have yet been revealed, it could be formalized as soon as March 1 next during Investor Day.
The Model 2, future affordable sedan, could share its underside with the Robotaxi promised by Elon Musk with 4680 batteries, much cheaper to produce than those currently fitted to the brand's cars. In addition, they offer greater density, allowingimprove battery life without increasing size. Thus, the amount of lithium needed would be less, while the price of it tends to climb sharply, while some fear a shortage. The new sodium batteries (without lithium) are expected this year.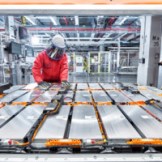 The Chinese giant CATL, the world's largest producer of batteries for electric cars, is expected to mass-produce its first sodium batteries later this year. Let's go back to this revolution: lithium-free batteries…
Read more

Do you use Google News (News in France)? You can follow your favorite media. Follow Aroged on Google News (and Numerama).