Facebook, Google, Twitter, Steam etc. All of these services use two-factor authentication — or two-factor security, or 2FA — to secure their users' accounts, here's how to enable it.
Double authentication — or 2FA — has become the technique with the best simplicity/effectiveness ratio for securing your Google, Facebook, Twitter, or other account.
It adds, in addition to the password, a new authentication step, such as a message with a code, the use of a security key or an authentication application. If someone tries to access your account after hacking your password, they should therefore normally be blocked by the confirmation of your identity, which will take place on your smartphone.
More and more services are using 2FA security to add an important layer of security. To secure an account, we can distinguish three kinds of elements: what we know (a password), what we are (a biometric sensor such as a fingerprint or facial recognition) and what you carry (your smartphone, connected watch, etc.). Double authentication therefore adds this last method of identification to the first or second.
Here's how to activate it on your different accounts:
Activate two-factor authentication on a Google account
Activating double authentication on your Google account makes it possible to secure Gmail, YouTube or Drive. To do this, you have to find the "two-step validation" option. Go to Google's account management page, myaccount.google.com, log in and go to the "Security" tab. There you will see the famous two-step verification option.
Follow the instructions and choose between receiving an invitation on the smartphone linked to the Google account (click "Yes" on your smartphone when it asks you if the connection attempt is from you), receiving a code by SMS or by call or finally use a Security Key such as the Titan key created by Google.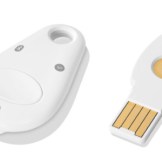 Announced a year ago for the United States, Google's Titan key landed in France at the beginning of August. It allows you to add an extra layer of protection when accessing your…
Read more

Enable two-factor authentication on Facebook
For Facebook, it's just as simple. Just find the "Use Two-Factor Authentication" option by going to Settings, then to the Security tab.
From there, two solutions are available to you: either to go through an authentication application such as Google Authenticator or Duo Mobile, or to receive a code by SMS.
If you choose the ID app, just download it on your smartphone, open it and scan the QR code displayed by Facebook to link the account.
Activate double authentication on WhatsApp
WhatsApp has offered two-step authentication for quite some time. The application teams have dedicated a tutorial to it as well as an explanatory video.
YouTube linkSubscribe to Aroged
To activate this option, therefore, all you have to do is press the three dots at the top right of the WhatsApp interface and select "Settings". In the menu that is offered to you, choose "Account" and then the option "Two-step verification". In the window that appears, click on the Activate button and let yourself be guided. Note that you will need to configure a six-digit PIN.
Enable two-factor authentication on Twitter
For Twitter, go to the social network settings, then to the "Security and account access", "Security" and finally "Two-factor authentication" submenus. Three techniques are available to you to secure your account: by SMS, via an authentication application or with a security key.
Be careful though: Twitter has made authentication via SMS chargeable, since you have to subscribe to Twitter Blue to take advantage of it. If you are not a subscriber, you must then uncheck the SMS option (deadline March 19, 2023), otherwise you will no longer have access to the social network.
Enable two-factor authentication on Snapchat
For Snapchat, everything happens through the application, directly on your smartphone. Open it and go to the settings by clicking on your profile at the top left, then on the wheel at the top right.
Once there, just click on "Two-factor authentication". Like Facebook, you can choose between a code by SMS or an authenticator application.
Activate two-factor authentication on an Apple / iCloud account
To secure an Apple account and iCloud, go to your iPhone. Go to "Settings", then click on your name and finally "Password and security". On this page, click on "Enable two-factor authentication". As for Twitter, you will only have the choice of the code by SMS.
On Mac, go to "System Preferences", "iCloud" and "Account Details". Click on security, then on "Enable two-factor authentication" to receive your SMS.
Enable two-factor authentication on Instagram
For Instagram, you need to go to your account settings, then to the "Security and privacy" tab.
Then click on "Change two-factor authentication setting" to choose between SMS code or authenticator app.
Enable two-factor authentication on Steam
For Steam, Valve offers its own account security method called "Steam Guard". To activate it, log into your Steam account, go to your account settings and then "Account Security". Finally, click on "Manage Steam Guard".
Again, two choices are possible: a code by email sent at each connection attempt on a new device or go through a particular authentication application: the Steam application. For each connection request, you will have to confirm it from your smartphone.
Activate two-factor authentication on a PlayStation account
The PlayStation account is surely one of the types of web accounts whose hacks are the most devastating. In 2011, the PlayStation Network was blocked for several days after an intrusion. To better secure your account, go to the PlayStation website, log in and click on their profile picture to go to the account settings.
Then just click on "Edit" next to "Two-Step Verification". The only option available will then be the code by SMS.
Activate two-factor authentication on a Microsoft / Outlook account
To secure your Microsoft account and therefore your Skype or Outlook account at the same time, go to the page dedicated to Microsoft account management: account.microsoft.com. Then go to the "Security" tab and then to "Other security options".
Then click on "Configure the identity verification application". You will need to download the "Microsoft Authenticator" application which is the same application as that of Google, but with the sauce of Redmond. However, you can use an application like Google Authenticator by scanning the QR code like on Facebook.
Enable two-factor authentication on Dropbox
Dropbox
is one of the leading cloud storage services. Log on to the site and click on your profile picture at the top right and then on "Settings". Go to the "Security" tab and enable "Two-Step Verification".
You will have the choice between an SMS code or an authenticator app.
Activate two-factor authentication on Amazon
Amazon
is surely one of the most coveted web accounts by hackers. It often contains your bank details, your address, etc. It is therefore essential to secure it with this technique.
Go to your Amazon account settings, click on "Login and security settings" then on "Advanced security settings".
It will therefore offer you to identify yourself with a code by SMS or an authentication application.
Others
To see if other sites are compatible with two-factor authentication, you can go to Two Factor Auth. This site lists many sites and specifies whether or not they are compatible with double authentication and especially with what type of double authentication!
It won't tell you how to do this, but most of the time you'll need to go to account settings and the security tab. You should then find the option for two-factor authentication here. If it does not offer it, pay even more attention to your identifiers and the data to which you give access, we are never too careful!
Do you use Google News (News in France)? You can follow your favorite media. Follow Aroged on Google News (and Numerama).