Survival in a gloomy forest is sometimes exhausting: you want to grab an ax and go cut cannibals left and right. Sons Of The Forest will quickly punish the player for such behavior, but cheats come to the rescue.
Cheats in Sons Of The Forest
The Forest, the first survival game from Endnight Games, had a long list of cheats and console commands – especially for players who were tired of honestly fending off cannibals. Unfortunately, this is not the case with Sons Of The Forest.
Is there a console and cheat codes?
So far, players have not been able to find either a console or any cheat codes for immortality or weapons in Sons Of The Forest. However, this does not mean that it is impossible to give your character infinite health, infinite stamina, or something like that.
How to use cheats?
Now the only working option is to use trainers. For example, Sons Of The Forest is supported by the WeMod application, which combines trainers for a rather long list of games.
With the help of WeMod, you can make a character immortal, give him infinite stamina, reset the fatigue counter, add infinite ammo and some resources – the list of possibilities is quite long.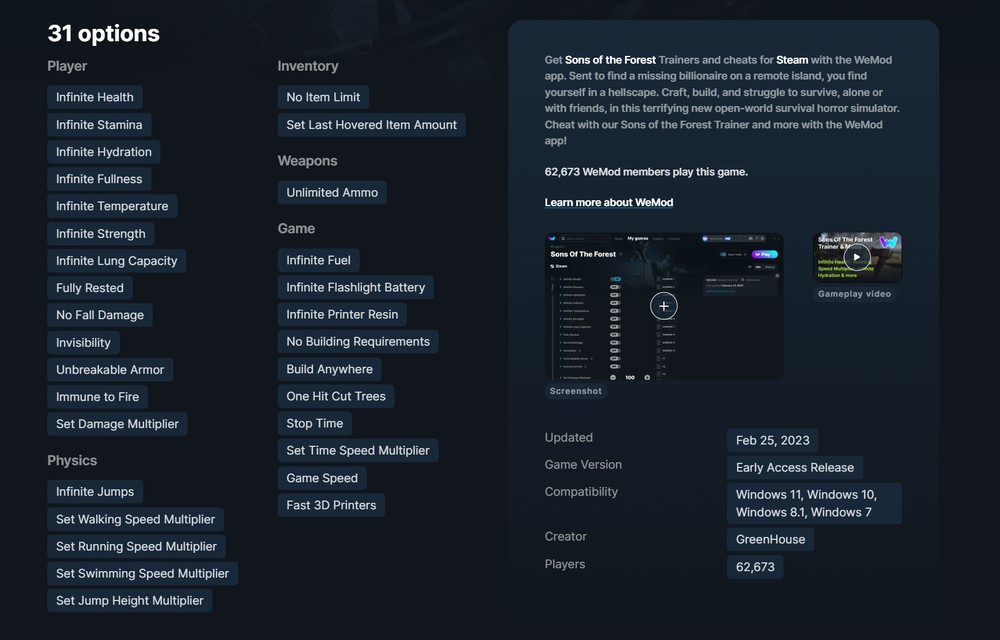 How to enter cheats in WeMod?
First, open the application itself, then launch Sons Of The Forest from it – the desired button will be in the upper right corner of the screen. When the game starts and loads, activate the cheats either from the application itself or using hotkeys.
Infinite Stamina: 1 on the numeric keypad. Infinite Stamina: 2 on the numeric keypad. Infinite Strength: 6 on the numeric keypad. Infinite Lung Capacity: 7 on the numeric keypad. : F9.Increase running speed: F10.
Unfortunately, most of the features are offered only in the full, paid version of the application. However, the free version is enough to make the character immortal or, for example, increase the speed of his movement.
We'll keep an eye on players' findings and update the text if full cheats are found in Sons Of The Forest.
This is interesting