The Xiaomi Mi Watch connected watch offers many possibilities, especially in terms of monitoring physical activities, but these are not its only advantages. Starting with its price, which drops to 89 euros instead of 149 euros when it was launched.
The Xiaomi Mi Watch // Source: Aroged
Xiaomi is increasingly diversifying its wearables range, with a Pro model of its S1 model. On the other hand, it will not suit all budgets since the starting price is 300 euros. Fortunately, in the catalog offered by the Chinese firm, there are more affordable and effective solutions such as the Mi Watch, Xiaomi's first watch. Even if it dates from 2021, it remains a good product, especially for its relatively lower price than when it was released thanks to this offer.
The Xiaomi Mi Watch, what is it?
A neat design and a good quality screen Accurate activity tracking With a week-long battery life
Xiaomi's Mi Watch has had many promotions since it went on sale. With a starting price of 149 euros, it is now on sale at 89 euros on Cdiscount. During Black Friday, it was displayed at 79 euros, but there has not been a better price since.
If the offer mentioned in this article is no longer available afterwards, please take a look below to find other promotions for the Xiaomi Mi Watch. The table is automatically updated.
Where to buy the
Xiaomi Mi Watch at the best price?
A minimalist watch, with a luminous screen
The Xiaomi Mi Watch takes on a rounded shape, like watch watches, with a sober appearance. Discreet on the wrist, it will also be comfortable to wear with its 32 g. Around the case, there are two physical buttons on the sides used for navigation and sports modes.
Regarding the display, the watch is based on a 1.39 inch AMOLED screen with a definition of 454 × 454 pixels and above all excellent brightness whose score can go up to 450 cd / m2 to be able to be used in all light conditions. The information is therefore readable, and the Always-on Display functionality is even part of it.
Effective and accurate activity tracking
To track your health and physical activity, the Mi Watch offers a lot of data. Through the training application, you will have the choice between 17 different activities, such as outdoor walking, yoga, triathlon, climbing or even swimming in open water – because it is waterproof up to 5 ATM. And, for its first watch, Xiaomi natively integrates a GPS chip that offers precise track tracking. Packed with sensors, the watch is also able to measure heart rate, blood oxygenation level (SPO2), sleep quality, stress level and energy level.
Xiaomi has also put the package on autonomy. With a 460 mAh battery, the brand provides 16 days of autonomy. Overall, it can last that long provided Always-on mode is disabled. During our test, the watch with Always-on display lasted about a week. It is therefore a particularly autonomous watch, you will not have to constantly charge it every evening. To recharge it, count 1h30.
For more details: here is our complete test on the Xiaomi Mi Watch.
8 /10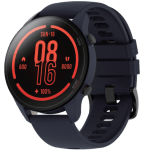 For the most athletic and sporty
If you have a more advanced activity and want a sports watch, we have the guide you need to help you make your choice: the best connected watches dedicated to sports in 2023.
Our colleagues from Numerama are launching Watt Else, their newsletter dedicated to the mobility of the future. Sign up here to make sure you get the first issue!