Launched last year, the Samsung Galaxy Buds 2 Pro are high-end wireless earphones with some interesting new features. At the moment, these true wireless are no longer as expensive as before since they can cost you 106 euros instead of 229 euros on Amazon.
The Samsung Galaxy Buds 2 Pro, here in pink // Source: Geoffroy Husson for Aroged
New audio codec and more compact format, the Samsung Galaxy Buds 2 Pro, released last year, brought with them their share of improvements, while retaining some very practical features, such as active noise reduction. Everything is also currently accessible with more than 50% discount, which makes these wireless headphones much more interesting.
Samsung Galaxy Buds 2 Pro essentials
A more compact format Spatial audio and a new audio codec Good sound reproduction
Initially displayed at 229 euros, then reduced to 176 euros, the Samsung Galaxy Buds 2 Pro (black color) are currently available at 156 euros on Amazon thanks to the 20 euro coupon to be checked before validating your basket on the platform. But, these wireless headphones can cost you 106 euros thanks to an ODR valid until April 30, 2023.
If the offer mentioned in this article is no longer available after that, please take a look below to find other promotions for the Samsung Galaxy Buds 2 Pro. The table updates automatically.
Where to buy the
Samsung Galaxy Buds 2 Pro at the best price?
More compact headphones
Like their previous versions, the Samsung Galaxy Buds 2 Pro adopt these famous rounded shapes which allow them to fit well in the ear. But if this design is similar to that of the predecessors, a small change has lightened it all: these Buds 2 Pro are 15% more compact than the first Galaxy Buds Pro. Each earphone is also lighter, weighing 5.5g compared to 6.3g for the models released in 2021.
As we can see here, the Galaxy Buds 2 Pro have an in-ear format: they are thus housed in the auditory pavilion, which helps to provide good passive isolation. Three pairs of silicone tips are offered to adapt to each user.
Convincing active noise reduction
Passive insulation also ensures good active noise reduction. For this, the Galaxy Buds 2 Pro are equipped with three microphones integrated into each earphone. According to the brand, this noise reduction has been improved compared to the previous generation, and the result is rather convincing: ambient sounds will be filtered out. However, it will be a little below that offered by other competitors, especially when it comes to erasing surrounding noise to allow the user to isolate himself in a bubble. Otherwise, note that a Transparency mode will be available to, on the contrary, listen to the noises that surround us without having to remove the headphones from the ears.
A new audio codec is coming
One of the major novelties of the Galaxy Buds 2 Pro remains the addition of a new "Hi-Fi" codec, called SSC Hi-Fi, for Samsung Seamless Codec Hi-Fi. at a sampling rate of 24 bits, thus transmitting more sound data than with conventional codecs such as AAC or SBC. On the other hand, to take advantage of it, you will need to be equipped with a Samsung smartphone that runs on version 4 of One UI. It will also be necessary that the audio file listened to also offers a depth of more than 16 bits. In addition, spatial audio is in the game. However, this function is only compatible with Samsung smartphones and tablets equipped with at least version 4.1.1 of One UI. The headphones will then operate a virtualization to place the different instruments around you while listening to a title. The result is quite convincing.
Finally, regarding autonomy, the Galaxy Buds 2 Pro could be used, during our test, for 4:45 with a volume at 60%, by activating the active noise reduction and going through a connection by the AAC codec, before to go out. We therefore have a correct duration of use, but below what other headphones with active noise reduction offer. Regarding charging in the case, the headphones will be able to recover 30% of autonomy in 10 minutes of charging.
To find out even more, do not hesitate to read our complete test of the Samsung Galaxy Buds 2 Pro.
7 /10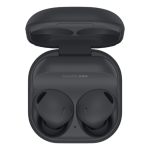 If you want to discover other references, we invite you now to consult our guide to the best Bluetooth headphones of the moment.
Do you use Google News (News in France)? You can follow your favorite media. Follow Aroged on Google News (and Numerama).