Dell quickly became essential with its XPS 13. The Plus model offers a new, more attractive look while remaining powerful. Today, it costs you 799.27 euros in its configuration with a 12th gen i5, compared to 1,248.64 euros at the start thanks to this offer on the manufacturer's official website.
Dell XPS 13 Plus // Source: Chloé Pertuis – Aroged
Since its release, the XPS 13 laptop has been very popular. It must be said that it has not ceased to be updated, in order to best meet the requirements of users. By designing its Plus model, the American manufacturer is reviewing the design of its laptop PC and integrating a more powerful processor. This range is quite expensive, but currently the XPS 13 Plus 9320 benefits from a 449 euro discount.
The advantages of the Dell XPS 13 Plus
A magnificent design A very bright 13-inch FHD panel A 12th gen i5 processor + 8 GB RAM + 512 GB SSD Comfortable autonomy
Offered at 1,248.64 euros, then discounted at 999 euros, the Dell XPS 13 Plus (9320) drops to 799.27 euros thanks to the code SAVE250XPSFR on the manufacturer's website.
Screenshot of the cart: Dell XPS 13 Plus 9320 at 799.27 euros by applying the code SAVE250XPSFR // Source: official site
If the offer mentioned in this article is no longer available after that, please take a look below to find other promotions on the Dell XPS 13 Plus 9320. The table is updating automatically.
Where to buy the
Dell XPS 13 Plus 9320 at the best price?
A design that works, but isn't perfect
On the XPS 13 Plus, Dell is redesigning its bestseller with the idea of ​​removing everything that may seem superfluous. It puts forward a more refined look and fits like a real premium ultrabook, and it is obvious when you look closer. The design is successful on this 1.24 kg ultrabook. It does not lack elegance with its glass and aluminum frame only 15.28 mm thick. Once unfolded, it reveals an edge-to-edge keyboard with enlarged and backlit keys, as well as a glass touchpad at shell level for an impression of continuity.
To offer such a design, it was necessary to make some concessions, especially in terms of connectivity. There is a Thunderbolt 4 (USB-C) port with DisplayPort and Power Delivery on each side, and that's it… Moreover, this version loses the microSD card port and the jack port. In terms of display, it has an IPS LCD panel in FHD + definition (1,900 x 1,200 pixels) on 13.4 inches. Result: the screen is very bright and a pleasure to watch, even if its calibration is not the most perfect. Finally, the only downside remains its refresh rate limited to 60 Hz.
An efficient and durable ultrabook
To ensure daily performance, the Dell XPS 13 Plus is equipped with an Intel Core i5-1240P processor clocked at up to 4.40 GHz Turbo. With this configuration, the laptop will be able to run your applications smoothly without any problem. On the other hand, you should not rely on this PC for any intensive graphics task, its Intel Iris Xe chip is mainly used to manage an external screen and play videos, nothing more, nothing less. Everything is supported by 8 GB of RAM and a 512 GB SSD (NVMe), which will ensure excellent fluidity, including for multitasking without a hitch.
Finally, to help you stay productive throughout the day, you will be able to take full advantage of the capabilities of this ultraportable. With its 55 Wh battery, the laptop is capable of lasting between 12 and 13 hours for fairly standard office use. Once your battery is drained, you can count on the 65 W Power Delivery recharge to restore energy to your computer.
Discover our test on the Dell XPS 13 Plus 9320, to find out more.
8 /10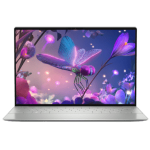 If you want to compare the Dell XPS 13 Plus 9320 with other high-end laptops available on the market, we invite you now to consult our guide to the best laptops of 2023.
To follow us, we invite you to download our Android and iOS application. You can read our articles, files, and watch our latest YouTube videos.