For watching football and rugby matches, the latest blockbuster or live events, nothing beats the endless contrasts of the OLED display. Unlike LED or QLED, it doesn't need a backlight to work, just self-emitting pixels that generate their own light and turn off outright to create perfect blacks. At the moment, the 65-inch model of the best range of OLED panels, aka LG C2, is on promotion since it sees its price drop to 1,599 euros instead of 2,690 euros at launch.
For several years, LG has carved out the lion's share of the OLED TV market. It is the essential brand if you are specifically looking for this type of tile and there is something for all budgets and all diagonals. For those who can afford it, the C2 range is the most talked about, thanks to its performance, functionality and design. And, the 65-inch model happens to be discounted 40% today.
The LG OLED65C2 in a few points
A 65-inch panel in 4K resolution HDMI 2.1 and AMD FreeSync ports for gaming Compatible with Alexa and Google voice assistants
Launched at 2,690 euros, but now displayed at a barred price of 2,299 euros, the LG OLED65C2 is now available on sale at 1,599 euros at Rue du Commerce.
If the offer mentioned in this article is no longer available after that, please take a look below to find other promotions for the LG OLED65C2. The table updates automatically.
Where to buy The
LG OLED65C2 at the best price?
A sublime screen for perfect immersion
Neither too big nor too small, this 65-inch TV (165 cm in diameter) will surely find a place in your living room to make you enjoy sublime display quality. With its Alpha 9 Gen 5 AI 4K processor, all images, regardless of source, will be streamed in 4K UHD resolution (3,840 x 2,160 pixels). And, with the OLED display, you'll be treated to very high levels of contrast as well as ultra-deep blacks. So you will have a perfect image for all types of content.
However, the OLED display has its flaws. First of all, the phenomenon of burn-in which remains rare, but which affects OLED TVs more often, then the range of brightness which is more restricted, less dynamic. It is on this point that the C24LA model marks a difference with the other C2s, thanks to a Brightness Booster mode, this TV benefits from a gain in brightness of 20% compared to conventional OLED panels. In addition to making your image better lit, this mode further boosts the contrast ratio.
Smart TV, gaming and enhanced audio on the program
Like recent TVs, the LG OLED65C2 has features related to a Smart TV. Thanks to webOS, navigation is fluid, pleasant and your interface is even customizable. You can access the main streaming services such as Netflix, Amazon Prime Video, Disney+ or Molotov without too many problems, some of them even have their own dedicated button on the remote control. And, thanks to the built-in microphones, you can control this TV by voice, it is also compatible with Alexa and Google voice assistants.
The 65C2 also has four HDMI 2.1 inputs, so in theory 4K 120 FPS gaming is accessible, which would be perfect for the latest generation consoles. No problem for 4K but the refresh rate is stuck at 100 Hz, it's not the best for very nervous games, but it's still playable. This TV is also compatible with VRR technology to synchronize your screen with the performance of your console's graphics card, and thus avoid latency, blurring and tearing.
Last feature of this 65C2 model: enhanced audio thanks to WiSA technology, which is ideal if you have speakers or a sound bar. This feature makes it possible to reduce wireless audio stream transfer latencies, but also to improve sound quality with 24-bit 48/96 kHz encoding.
To find out even more, don't hesitate to read our full test on the LG OLED65C2.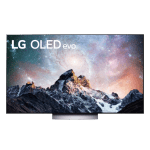 In order to compare the LG OLED65C24LA with other products in the same category, we invite you now to consult our guide on the best 4K OLED TVs of the moment.
Do you use Google News (News in France)? You can follow your favorite media. Follow Aroged on Google News (and Numerama).