Fisker confirms: its first car, the Ocean, a 100% electric compact SUV, will achieve record range.
Fisker Ocean // Source : Marie Lollipop
Recently, Fisker published the certifications for the Ocean, confirming a WLTP range greater than that initially expected. Two battery capacities are offered: the Fisker Ocean Sport version with 440 km of autonomy and the Fisker Ocean Extreme and Ultra versions with 630 km of autonomy. It turns out that the range of the last two models reaches 707 km on the European WLTP cycle. As for the Sport version, we do not yet know its WLTP autonomy.
Big autonomy
The Ocean would thus be one of the electric SUVs with the greatest autonomy. If Fisker manages to produce the Ocean at the target price and with the advertised features, it could offer one of the most capable electric vehicles on the market. European homologation is expected to be released by April 28, 2023, and deliveries will begin thereafter.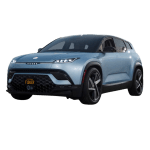 As a reminder, the Ocean is built by Magna Steyr, a well-known auto parts manufacturer, and has a solar roof (Ocean Extreme) capable of recovering up to 3,000 km per year. It is equipped with a large 17.1-inch central screen, a full set of advanced driver assistance (ADAS) and safety features, and 4G connectivity. The Fisker Ocean is available in three versions with different engine and transmission options. The base model is offered at an attractive price of €41,900 (€36,900 after the eco-bonus), making it a serious competitor to the Tesla Model Y Propulsion.
Tesla no longer offers the best range-to-price ratio
On the Tesla side, the Model Y Grande Autonomie has a range of 533 km (with 20″ rims), compared to 21-inch rims on the Ocean Extreme version (69,950 euros). We do not yet know the final autonomy of the Ocean Sport version, it is announced at 440 km on the official site. In the WLTP cycle, it seems reasonable to expect no less than 500 km (certainly 490, maybe more).
ModèleAutonomie (WLTP)Prix
Fisker Ocean Extreme707 km69 950 euros
Fisker Ocean Sport490 km (est.)41 990 euros
Tesla Model Y Propulsion430 km46 990 euros
Tesla Model Y Propulsion Grande Autonomie533 km53 990 euros
Volvo Recharge Extended Range573 km46 990 euros
Faced with this Sport version at 41,990 euros (not including the ecological bonus), the Volvo XC40 remains ahead, with 573 km (WLTP, in Recharge Extended Range version for 46,990 euros).
Critical next steps for Fisker
If they can get the Fisker Ocean into production — and if they deliver on all their promises — it will be a serious competitor to Tesla. This SUV displays high-end services comparable to the Model Y, and even above in version versions.
But with Magna's guarantee of seriousness, we can remain reassured about the future of the project. This marks the beginning of a new era for the Californian manufacturer, which has experienced ups and downs in its attempts to launch its own car. Once having crossed the ocean (we couldn't help it…), Fisker is already considering a next small electric car project, named PEAR (Personal Electric Automotive Revolution), which Foxconn will manufacture.
Our colleagues from Numerama are launching Watt Else, their newsletter dedicated to the mobility of the future. Sign up here to make sure you receive the next issue!