One of the reasons for the success of mobile games is the convenience of having your games available wherever you go when you have an hour or two to kill. So imagine being able to play your Xbox games directly on your smartphone, it's the very principle of cloud gaming and certain accessories like the Razer Kishi controller are dedicated to this. The latter also takes advantage of Amazon's spring flash sales and sees its price drop to 39.99 euros in its version for Android.
Believe it or not, but the mobile gaming market brings in a lot more than those on console and PC combined, it's less obvious for the cloud gaming market on the other hand, but the practicality of these smartphone controllers saves the day. Because in addition to being able to play games from the Play Store, you can have access to the Xbox catalog with this Razer Kishi controller for Android smartphone. With Amazon's spring flash sales, this thoughtful accessory is 31% off.
Things to remember about the Razer Kishi for Android (2020)
Well thought-out ergonomics Compatible with many devices Built-in USB-C port
Instead of a crossed out price of 58.32 euros, the Razer Kishi for Android (2020) is now available on sale at 39.99 euros at Amazon.
If the offer mentioned in this article is no longer available after that, please take a look below to find other promotions for the Razer Kishi for Android (2020). The table updates automatically.
Where to buy The
Razer Kishi 2020 (Android) at the best price?
Play Xbox games on your smartphone with Joy-Con
The Razer Kishi extends on both sides of your smartphone to ensure a comfortable grip and is thus reminiscent of the Joy-Con of the Nintendo Switch. As for the controls, connoisseurs will see there an organization similar to that of the Xbox controllers with a joystick on each side, a directional cross and the four buttons A, X, B, Y. You also have triggers on the upper edge as well as two action buttons and a Home button.
Ergonomics is well thought out and has a reassuring side in the sense that it is easy to navigate, this controller is also easy to install, but we can complain about the fact that you have to remove the shell of the smartphone for that. Because it folds up on itself, the Razer Kishi packs easily into a bag to carry wherever you go. It even has a USB-C port so it can be used while charging the smartphone. The only black spot on the board is the use of cheap plastic in the finish.
For mobile gaming, but also emulation and cloud gaming
Once the Razer Kishi is connected to your smartphone (you also have a list of compatible devices here), you can play with it on your mobile games, but also have access to various cloud gaming services such as Xbox Game Pass and GeForce Now . The controller also works with emulators like RetroArch to replay old titles and return to childhood. The Razer Kishi allows you to have a real pocket console at your fingertips wherever you go.
Also note that another version of the Razer Kishi is dedicated to iPhones and works with Apple Arcade. Handheld consoles and mobile games having more and more momentum, you would be right to let yourself be tempted, if only for the practicality of this controller. Lovers of mobile games, retro games or cloud gaming, you will be served!
For even more, read our full review of the Razer Kishi for Android (2020).
8 /10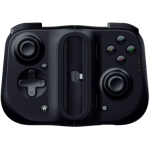 What are the spring flash sales on Amazon?
Unlike Prime Day, an event organized exclusively for those who subscribe to the Amazon Prime service, the spring flash sales are intended for everyone, with a few exceptions. You just won't be eligible for fast delivery if you don't have a current subscription.
The spring flash sales on Amazon run from Monday, March 27, 2023, from 6 p.m. until Wednesday, March 29, 2023, at 11:59 p.m.
The best deals from Amazon's spring flash sales
To make sure you don't miss out on any good plan for this event, here are some reflexes to adopt now so as not to miss any of the offers that we recommend:
Follow us on our twitter account @ArogedPromos only dedicated to good deals (remember to activate the bell to receive notifications in real time) Download our Aroged application (available on iOS and Android) to activate notifications in the "Good Deals" category and thus receive new articles in real time linked to the Spring Flash Sales on Amazon Subscribe to our Good Deals newsletter to be sure to receive the offers in preview (no more than one email per day, unsubscribe in 1 click, no distribution to third parties):
It's recorded ! Watch your mailbox, you will hear from us!
The data transmitted through this form is intended for Humanoid, publisher of the Aroged site in its capacity as data controller. They will in no case be transferred to third parties. This data is processed subject to obtaining your consent to send you by e-mail news and information relating to editorial content published on Aroged. You can oppose these e-mails at any time by clicking on the unsubscribe links present in each of them. For more information, you can consult our entire personal data processing policy. You have a right of access, rectification, erasure, limitation, portability and opposition for legitimate reasons to personal data concerning you. To exercise one of these rights, please make your request via our dedicated rights exercise request form.
Do you use Google News (News in France)? You can follow your favorite media. Follow Aroged on Google News (and Numerama).