The Xiaomi Electric Scooter Pro 4 is one of the brand's elite electric scooters. Powerful, robust and enduring, today, we find it at a softer price on Amazon: 696 euros instead of 799 euros when it was released.
Source: Anthony Wonner – Aroged
Xiaomi has a good number of electric scooters in its catalog, and recently added a new reference: the Electric Scooter 4 Pro. It succeeds the Mi Scooter 3 released a few months ago, and replaces the Scooter Pro 2. This premium model improves certain points such as autonomy, robustness and power. Much more expensive than the old models, it is significant to find it today with more than 100 euros discount.
Highlights of the Xiaomi Electric Scooter 4 Pro
A robust scooter with a wide deck Good acceleration with reassuring brakes Strong autonomy
Displayed at 799 euros, the Xiaomi Electric Scooter 4 Pro electric scooter is discounted at 696 euros on the Amazon site.
If the offer mentioned in this article is no longer available afterwards, please take a look below to find other promotions for the Xiaomi Electric Scooter 4 Pro. The table updates automatically.
Where to buy The
Xiaomi Electric Scooter 4 Pro at the best price?
An inspiration from the old models, more refined
The Xiaomi Electric Scooter 4 Pro takes on the appearance of its predecessors with its exposed cables in black and red colors. For this fourth generation, the manufacturer is instead making some adjustments: it is improving the driving experience and the comfort of its scooter, by widening the deck by 16 cm compared to 14.5 centimeters on the older generation and 15 centimeters on the Pro 2.
An enlargement that allows you to have more room for your feet, and to be able to place them side by side. The size of the scooter also gains in height, the height of the handlebar has increased by 5 mm compared to the Pro 2, which makes it more ergonomic in driving and comfortable. The 10-inch tires provide good shock absorption on any road. These changes have some consequences, in particular on the weight which is 16.5 kg and makes the scooter difficult to transport. It's doable, but not ideal.
Safe, durable and pleasant to use
Its high price is also explained by its boosted performance. This scooter goes up a notch in terms of nominal and maximum power: 350 W for one, 700 W for the other. In any case, your speed is limited to 25 km/h, as required by law. On the other hand, Xiaomi promises to climb hills up to 20%. Regarding driving, the scooter is manageable and stable, and the braking system will be very effective.
On the handlebars, you will be able to consult the screen which will display information such as the speed, the state of the battery and the driving mode chosen according to the situation. The application offers more information and also becomes more welcoming thanks to an update. As for autonomy, Xiaomi mentions a range of 55 km, excluding the Scooter 4 Pro indicates 45 km of range. In any case, this model is durable and lasts 40 km depending on your driving. For recharging, you will have to wait (a lot) since it takes between 8 and 9 hours to recharge it to 100%.
For more information, find our complete test on the Xiaomi Electric Scooter 4 Pro.
8 /10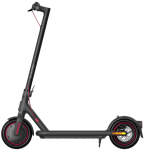 If the Xiaomi Electric Scooter 4 Pro electric scooter remains too expensive for you, and does not fit into your budget, then we invite you now to consult our guide to the best electric scooters in 2023.
Want to join a community of enthusiasts? Our Discord welcomes you, it's a place of mutual aid and passion around tech.