The Huawei FreeBuds Pro 2, released almost a year ago, are the brand's newest high-end wireless headphones. If they had been launched at a rather affordable price, they are currently even cheaper since they are offered at 159.99 euros instead of 219.99 euros on the Huawei site.
The Huawei FreeBuds Pro 2 // Source: Robin Wycke for Aroged
By launching its second generation of FreeBuds Pro last year, Huawei wanted to offer wireless headphones with better sound reproduction. It was a success in our opinion since the Huawei FreeBuds Pro 2 received the good score of 8/10 at the end of our test. Despite some concessions, these true wireless have several arguments to make, starting with their price, which has just dropped by 60 euros thanks to this offer.
Les points forts des Huawei Freebuds Pro 2
More precise sound reproduction and LDAC compatibility The presence of multipoint Bluetooth Active noise reduction
Initially displayed at 219.99 euros, the FreeBuds Pro 2 are now sold at 159.99 euros on the Huawei site.
If the offer mentioned in this article is subsequently no longer available, please take a look below to find other promotions for the Huawei FreeBuds Pro 2. The table is automatically updated .
Where to buy The
Huawei FreeBuds Pro 2 at the best price?
Comfortable headphones, even over time
Like the old Huawei FreeBuds Pro, the FreeBuds Pro 2 have a rod format, but more rectangular this time. They are coated with a shiny surface, which will unfortunately tend to attract fingerprints. This second generation has also inherited the in-ear format of the first, which helps to offer effective passive isolation, essential for correct active noise reduction. They are also quite comfortable, in particular thanks to their low weight (5.9 g) and their good support in the ear canal. During our test, we were able to wear the headphones for several hours without feeling any particular discomfort. They are also IP54 certified, i.e. protected against sweat, splashes or rain, which will allow you to wear them even during your rainy runs, without them slipping. On the other hand, the FreeBuds Pro 2 are not waterproof.
Accurate sound reproduction
The Huawei FreeBuds Pro 2 earphones incorporate a dual speaker system: each earphone therefore embeds a classic 11 mm dynamic transducer, but also a planar transducer which will support it for the highs and high-mids. Result: the soundstage is deeper, with more precision across the spectrum. In addition, Huawei has collaborated with Devialet, which allows the FreeBuds Pro 2 to offer a sound signature emphasizing round bases and mids. Also note that these FreeBuds Pro 2 are compatible with several codecs, namely AAC, SBC, HWA and LDAC. Hi-Res Audio Wireless compatibility is also included with a compatible source that uses the correct Bluetooth codecs.
If the audio part is very convincing, the active noise reduction promised by Huawei is a bit random: the FreeBuds Pro 2 sometimes struggle to reduce all noise, with the exception of the lowest frequencies, which are constantly filtered. We will still be entitled to four active noise reduction modes, in addition to the passive mode.
Multipoint Bluetooth is included
One of the main advantages of the FreeBuds Pro 2 remains the presence of multipoint Bluetooth, which allows the headphones to be connected simultaneously to two devices. The multipoint connection will even be available when the headphones are connected in LDAC to the smartphone, even if the autonomy is necessarily reduced. Speaking of autonomy, precisely, the FreeBuds Pro 2 are not particularly enduring. During our test, the left earbud died after just over three hours of listening in "Ultra" mode in LDAC and at 75% volume, while the right died after five o'clock. For charging with the case (compatible with Qi wireless charging), you will have to wait half an hour for a full charge.
To find out even more, do not hesitate to read our complete test of the Huawei FreeBuds Pro 2.
8 /10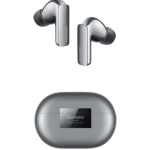 If you want to discover other models to compare them with the Huawei FreeBuds Pro 2, we invite you now to consult our guide to the best Bluetooth headphones of the moment.
To follow us, we invite you to download our Android and iOS application. You can read our articles, files, and watch our latest YouTube videos.