Compact and equipped with a new audio codec, the Samsung Galaxy Buds 2 Pro are premium wireless headphones that are even more worth the detour when they display a lower price: at the moment, they can indeed be found at 116 euros at the instead of 229 euros on Amazon.
The Samsung Galaxy Buds 2 Pro (here in pink) charging in their case // Source: Geoffroy Husson for Aroged
Launched last year, the Samsung Galaxy Buds 2 Pro are true wireless devices whose technical data sheet has been improved compared to the previous generation, in particular with the arrival of new features, such as a new audio codec called SSC Hi-Fi Several months after their release, these wireless headphones are becoming more and more recommendable, especially when they are offered at half price.
The highlights of the Samsung Galaxy Buds 2 Pro
More compact headphones Good sound reproduction Spatial audio and a new audio codec
First displayed at 229 euros, then reduced to 176 euros, the Samsung Galaxy Buds 2 Pro can cost you 116 euros today on Amazon thanks to a 10 euro coupon and a 50 euro ODR, both valid until 'At 30 avril 2023.
If the offer mentioned in this article is no longer available after that, please take a look below to find other promotions for the Samsung Galaxy Buds 2 Pro. The table updates automatically.
Where to buy The
Samsung Galaxy Buds 2 Pro at the best price?
Lighter and more compact headphones
At first glance, the Samsung Galaxy Buds 2 Pro don't differ greatly from earlier versions, with their rounded shape allowing the earbuds to sit snugly in the ears. On the other hand, they have the advantage of being much more compact than the first Galaxy Buds Pro. Each earphone is also lighter, since they weigh 5.5 g compared to 6.3 g for the models released in 2021. In addition, the Galaxy Buds 2 Pro have an in-ear format, that is to say that 'they slip into the auditory pavilion, which ensures good passive insulation. Three pairs of silicone tips are also available to adapt to each user. This passive isolation above all allows you to benefit from good active noise reduction, a technology that the Galaxy Buds 2 Pro offer, just like their predecessors.
To erase external noise, or at least reduce it, the true wireless are equipped with three microphones integrated into each earpiece. According to the brand, this noise reduction has been improved compared to the previous generation, and the result is rather convincing: ambient sounds will be filtered out. However, it will be a little below that offered by other competitors, especially when it comes to suppressing surrounding noise to allow the user to isolate himself in a bubble. Note that a Transparent mode will also be available.
A new audio codec, and spatial audio present
The Samsung Galaxy Buds 2 Pro manage to stand out above all thanks to the appearance of a new "Hi-Fi" codec, called SSC Hi-Fi, for Samsung Seamless Codec Hi-Fi. at a sampling rate of 24 bits, thus transmitting more sound data than with conventional codecs such as AAC or SBC. But to take advantage of it, you will need to have a Samsung smartphone, which runs on version 4 of One UI. The audio file listened to must also offer a depth of more than 16 bits. Otherwise, spatial audio will be included, but will only be compatible with Samsung smartphones and tablets equipped with at least version 4.1.1 of One UI. Thanks to this technology, the Galaxy Buds 2 Pro will be able to perform a virtualization to place the different instruments around you while listening to a title.
Finally, regarding their autonomy, the Galaxy Buds 2 Pro turned off, during our test, after 4h45 with a volume at 60%, by activating the active noise reduction and going through a connection by the codec AAFC. This is a fairly decent result, but lower than what other headphones with active noise reduction offer. For charging in the case, 10 minutes will be enough to regain 30% battery.
To find out even more, do not hesitate to read our complete test of the Samsung Galaxy Buds 2 Pro.
7 /10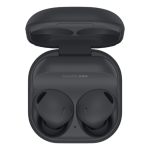 If you want to discover other references to compare them with the Samsung Galaxy Buds 2 Pro, we invite you now to consult our guide to the best Bluetooth headphones of the moment.
Want to join a community of enthusiasts? Our Discord welcomes you, it's a place of mutual aid and passion around tech.