The Samsung Galaxy A23 5G is one of the brand's most recommendable entry-level smartphones and it is currently offered at 169 euros at Darty instead of 329 euros on the manufacturer's website.
Source: Anthony Wonner – Aroged
Packed full of efficient entry-level smartphones, Samsung's Galaxy A line is one of the brand's most popular. Appreciated for their simple but really effective features, these devices are popular, like the Samsung Galaxy A23 5G, which has good battery life and a quality screen. All at a much lower price than usual thanks to a double reduction.
The advantages of the Samsung Galaxy A23 5G
A 6.6-inch + 120 Hz Full HD+ screen Decent performance Good battery life
Displayed at 329 euros on the Samsung site, the Samsung Galaxy A23 5G is now offered at 169 euros at Darty thanks to a promotion coupled with an immediate discount of 80 euros, visible once the product has been added to the basket.
The reduced price of the Samsung Galaxy A23 5G at Darty.
If the offer mentioned in this article is no longer available after that, please take a look below to find other promotions for the Samsung Galaxy A23 5G. The table updates automatically.
Where to buy The
Samsung Galaxy A23 5G at the best price?
Efficient design, despite the ubiquity of plastic
For its Galaxy A23 5G, Samsung has chosen to ignore glass or metal to maintain a contained price, entry level requires. We will therefore be entitled to a design made of plastic. But the advantage of this choice is that we are here in the presence of a particularly light smartphone, which will make its handling really pleasant. It also gives the impression of being rather solid, which is another very good point. Besides, the edges of the screen are a bit thick, but that's not really prohibitive, especially since the screen is large enough to display clearly legible information.
Indeed, the Samsung Galaxy A23 5G has a 6.6-inch PLS LCD panel, supporting a maximum FHD + definition of 2,408 × 1,080 pixels. Here, no AMOLED therefore, but we will console ourselves with a maximum refresh rate of 120 Hz, the promise of excellent fluidity on a daily basis. However, we regret the impossibility of changing the calibration of the screen. The brand's One UI interface will still be as pleasant and modern as ever.
Honest performance
The Samsung Galaxy A23 5G is powered by a Snapdragon 695 chip; a decent processor, for a relatively classic configuration although RAM and storage remain quite limited. In addition to the contribution of 5G, we can also count on the chip to ensure relatively good fluidity. On the other hand, some slowdowns are to be expected, especially in game, especially since 3D performance can leave something to be desired. The Galaxy A23 still goes up the slope with its 5,000 mAh battery, which easily promises a full day's autonomy, or even two days if the use is really moderate. On the charging side, the smartphone is not compatible with wireless charging, and a 25W recharge allowed it, during our test, to gain 32% battery in 30 minutes.
Finally, regarding the photo part, the Galaxy A23 incorporates a 50-megapixel wide-angle, an ultra-wide-angle of 5 megapixels, a macro lens and a depth sensor of 2 megapixels each. By day, the main sensor captures excellent shots, with those bright colors typical of the South Korean brand that appear after each photo is processed. The ultra wide-angle, for its part, suffers from a lack of pixels which will prevent it from taking in as much light as the main sensor.
To find out even more, do not hesitate to read our complete test of the Samsung Galaxy A23 5G.
8 /10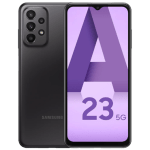 If you want to discover other references from the brand, we invite you now to consult our guide to the best Samsung Galaxy smartphones of the moment.
Do you use Google News (News in France)? You can follow your favorite media. Follow Aroged on Google News (and Numerama).