Among the laptops dedicated to the world of work, ultrabooks hold a privileged place. Light, easily transportable and above all durable enough to last at least a day's work, these are the cream of office laptops. The Samsung Galaxy Book 2 360 combines all these qualities by adding power and during this third sale markdown, its price drops from 1449.99 euros to 899.99 euros at Rue du Commerce.
The Samsung Galaxy Books are part of the South Korean giant's technological showcase, they are the most prominent ultrabooks on the market with the MacBooks. Although the Samsung Galaxy Book 3 range has already been on the market for a few months, the previous generation models remain good references, such as this Samsung Galaxy Book 2 360, a hybrid ultrabook capable of transforming into a touch pad. During the summer sales, it is possible to take advantage of a reduction of 550 euros on this premium ultrabook at Rue du Commerce.
The Samsung Galaxy Book 2 360 in a nutshell
A 13-inch OLED screen and excellent finishes Really practical 2-in-1 format Good performance with a 12th generation Core i7 Very long-lasting battery
Instead of the usual 1449.99 euros, the Samsung Galaxy Book 2 360 is now available on sale at 899.99 euros at Rue du Commerce.
If the offer mentioned in this article is subsequently no longer available, please take a look below to find other promotions for the Samsung Galaxy Book 2 360. The table is updating automatically.
Where to buy The
Samsung Galaxy Book 2 360 (2022) at the best price?
A stylish and versatile ultrabook
The Samsung Galaxy Book 2 360 is an ultrabook, that is to say that it must above all be easily transportable. This 13.3-inch chassis weighs only 1.15 kg and is only 12.9 mm thick, it will slip easily into a bag and will even be forgotten. The chassis is also convertible, it can go from a laptop to a touch pad thanks to a 360° folding hinge. Finally, the Samsung Galaxy Book 2 360 does not fall into the trap of finesse and has full connectivity with two USB-C ports, an HDMI port, a USB-A port, a microSD card reader and a jack 3 port, 5mm.
For the screen, Samsung has chosen a 13.3-inch touchscreen here with a Super AMOLED display offering an infinite contrast ratio. The definition is in Full HD (1920 x 1080 pixels) and the manufacturer also announces 120% coverage of the DCI-P3 color range. At this price, a higher definition would have been welcome, but Full HD has the merit of saving battery life. On the other hand, the 13.3-inch format in 16:9 is a bit tight for productivity, a 16:10 or 3:2 ratio would not have been luxury.
Perfect autonomy for your working days
The Samsung Galaxy Book 2 360 runs on an Intel Core i7-1255U processor, a high-end model with 10 cores and 12 threads capable of reaching a clock frequency of 4.7 GHz in turbo boost mode. This processor integrates an Intel Iris Xe GPU and is accompanied by 16 GB of RAM. In practice, this ultrabook is efficient, fluid in multitasking and versatile in the sense that it is even able to launch some modern games. Thermal management is exemplary for a laptop of this finesse.
Performance is also ensured by a 512 GB NVMe SSD which, in addition to storing your content and software, runs them at high speed. Finally, the Samsung Galaxy Book 2 360 packs a 61.1 Wh battery capable of a battery life of around 9 hours, that's enough for a long day's work and it's even in the high range. In this field, this ultrabook is only competed with by the Galaxy Book Pro and the MacBook.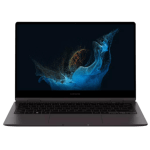 Summer sales 2023: the best offers chosen by Aroged
The summer sales officially started on Wednesday June 28, 2023 at 8 a.m. in France and will end on Tuesday July 25 at midnight. As of now, several merchants have already drawn their best offers.
Our selections by product category
Our selections by merchant
To make sure you don't miss out on any good plan for this event, here are some reflexes to adopt now so as not to miss any of the offers that we recommend:
Follow us on our Twitter account @ArogedPromos only dedicated to good deals (remember to activate the bell to receive notifications in real time). Download our Aroged application (available on iOS and Android) to activate notifications from the "Good Deals" category and thus receive new articles related to the 2023 Summer Sales in real time. Subscribe to our Good Deals newsletter to be sure to receive offers in preview (no more than one email per day, unsubscribe in 1 click, no distribution to third parties):
It's recorded ! Watch your mailbox, you will hear from us!
The data transmitted through this form is intended for Humanoid, publisher of the Aroged site in its capacity as data controller. They will in no case be transferred to third parties. This data is processed subject to obtaining your consent to send you by e-mail news and information relating to editorial content published on Aroged. You can oppose these e-mails at any time by clicking on the unsubscribe links present in each of them. For more information, you can consult our entire personal data processing policy. You have a right of access, rectification, erasure, limitation, portability and opposition for legitimate reasons to personal data concerning you. To exercise one of these rights, please make your request via our dedicated rights exercise request form.
Some links in this article are affiliate. We'll explaine everything here.
Do you use Google News (News in France)? You can follow your favorite media. Follow Aroged on Google News (and Numerama).