One of Xiaomi's flagship scooters, the enduring and high-performance Electric Scooter 4 Pro is a model of choice for those who wish to adopt a more ecological means of transport. The time is ideal to acquire it since during these summer sales, it can be found at 609 euros instead of 799 euros on the Xiaomi site.
It was at the end of last year that Xiaomi expanded its range of electric scooters with its Electric Scooter 4 Pro, a powerful reference that is still part of our top of the best models of the moment. Replacing the Scooter Pro 2 and heir to the Mi Scooter 3, this recent, much more robust premium scooter delivers great power on the road. It is all the same during the summer sales that it becomes even more recommendable since its price benefits from a reduction of nearly 200 euros.
Things to know about the Xiaomi Electric Scooter 4 Pro
A robust scooter with a wider deck Maximum power of 700 W Good autonomy
Initially displayed at 799 euros, then reduced to 699 euros, the Xiaomi Electric Scooter 4 Pro electric scooter can cost you 609 euros on the Xiaomi site thanks to an automatic reduction of 50 euros and a coupon of 40 euros for new customers . Be sure to create an account on the Xiaomi site to take advantage of this promotion. You can also find it at 630 euros at Amazon and Cdiscount.
Discounts applied to the Xiaomi Electric Scooter 4 Pro on the Xiaomi website.
If the offer mentioned in this article is no longer available afterwards, please take a look below to find other offers for the Xiaomi Electric Scooter 4 Pro. The table updates automatically.
Where to buy The
Xiaomi Electric Scooter 4 Pro at the best price?
A much more comfortable scooter
Visually, regulars of Xiaomi electric scooters will not really be out of place since the Electric Scooter 4 Pro takes up the design of the models that preceded it, with its visible black and red cables. On the other hand, the design of this premium scooter has been improved compared to the old version, the Scooter Pro 2: the width of the deck has indeed been increased to 16 cm (instead of 14.5 cm), which leaves more room for the feet when driving.
Another improvement: the size of the scooter has been increased by 5 mm, to improve ergonomics, and the tires now measure 10 inches, and no longer 8 inches like on the Scooter 3. They are thus more robust and promise better shock absorption. bumps on the road. In short, we can enjoy a much more comfortable ride. However, who says increase in size mechanically says increase in weight: the Scooter 4 Pro still weighs 16.5 kg. It is therefore not a featherweight, and it will take some effort to carry it once folded during your intermodal trips, for example.
Good endurance
On the performance side, the Xiaomi Electric Scooter 4 Pro has a motor with a nominal power of 350 W and a maximum of 700 W. This allows it without any problem to hold a maximum speed of 25 km/h, in accordance with French regulations, and this, even on an inclined slope up to 20%. Reaching this maximum speed will also be done in a very short time. Regarding driving, the scooter is handy and promises good stability. The braking system will be very effective, which is reassuring.
As is customary on Xiaomi scooters, you will find a screen on the handlebars of the Scooter 4 Pro that will display the current speed, the chosen driving mode or the battery status. Precisely, speaking of autonomy, know that the Scooter 4 Pro proves to be very enduring since it is in theory capable of operating for 45 km before falling stranded. Attention, Xiaomi announces a range of 55 km, but in fact, the maximum range indicated by the scooter is 45 kilometers. A duration to qualify, obviously, according to the weight of the user, which influences the autonomy. As for recharging, patience will be required since it will have to be left plugged in between 8 and 9 hours.
To find out even more, do not hesitate to read our complete test of the Xiaomi Electric Scooter 4 Pro.
8 /10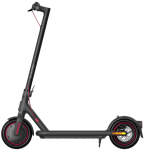 Summer sales 2023: the best offers chosen by Aroged
The summer sales officially started on Wednesday June 28, 2023 at 8 a.m. in France and will end on Tuesday July 25 at midnight. As of now, several merchants have already drawn their best offers.
Our selections by product category
Our selections by merchant
To make sure you don't miss out on any good plan for this event, here are some reflexes to adopt now so as not to miss any of the offers that we recommend:
Follow us on our Twitter account @ArogedPromos only dedicated to good deals (remember to activate the bell to receive notifications in real time). Download our Aroged application (available on iOS and Android) to activate notifications from the "Good Deals" category and thus receive new articles related to the 2023 Summer Sales in real time. Subscribe to our Good Deals newsletter to be sure to receive offers in preview (no more than one email per day, unsubscribe in 1 click, no distribution to third parties):
It's recorded ! Watch your mailbox, you will hear from us!
The data transmitted through this form is intended for Humanoid, publisher of the Aroged site in its capacity as data controller. They will in no case be transferred to third parties. This data is processed subject to obtaining your consent to send you by e-mail news and information relating to editorial content published on Aroged. You can oppose these e-mails at any time by clicking on the unsubscribe links present in each of them. For more information, you can consult our entire personal data processing policy. You have a right of access, rectification, erasure, limitation, portability and opposition for legitimate reasons to personal data concerning you. To exercise one of these rights, please make your request via our dedicated rights exercise request form.
Some links in this article are affiliate. We'll explaine everything here.
Want to join a community of enthusiasts? Our Discord welcomes you, it's a place of mutual aid and passion around tech.