Well equipped and with a really pleasant design, the Decathlon Elops 900 E is an electric bike that offers ease of use likely to appeal to the greatest number. Its current price should also convince more than one: Upway offers it refurbished at 799 euros instead of 1,299 euros at launch.
Source: Anthony Wonner – Aroged
Decathlon has managed, over the years, to invest sustainably in the electric bike market with its more affordable and well-equipped urban models. One of the latest, the Elops 900 E, for example, offers considerable ease of use and good autonomy, even if it suffers from a slight lack of dynamism. All in all, it is still a good reference, which we appreciate even more when its price is falling as it is now.
The strengths of the Decathlon Elops 900 E
A neat design Easy to use Good autonomy of 50 km
Launched at 1,299 euros then displayed at 1,199 euros, the Decathlon Elops 900 E is now offered refurbished at 799 euros at Upway. The displayed model just has a few scratches and impacts on the frame and components, but nothing too serious. Don't forget that you are entitled to state aid, which varies according to your geolocation on national territory.
If, subsequently, the offer mentioned in this article is no longer available, please take a look below to find other promotions concerning the Elops 900 E from Decathlon. The table updates automatically.
Where to buy The
Decathlon Elops 900 E at the best price?
Efficient design and guaranteed comfort
If the Decathlon Elops 900 E is an entry-level electric bike, which involves some unpleasant aesthetic details such as the brake cables that are a little too visible at the handlebars, the overall design is still rather elegant, with its matte effect and look inspired by Dutch bicycles. The model presented here is also rather heavy with its 26 kg. Note that this is a size S, which is suitable for people measuring between 1m65 and 1m80.
Regarding its comfort, the Elops 900 E does not disappoint and is very well equipped. For example, we are entitled to a suspension fork, a Suntour Nex with a travel of 63 mm, which allows you not to feel the shocks when going over a pothole or a slightly raised pavement, while offering a more pleasant feeling when riding on rough roads. Note also the wide saddle for a much more pleasant seat, and balloon-type tires on the 28-inch wheels, which absorb the roughness of the road.
A well-equipped bike ideal for urban commuting
The Decathlon Elops 900 E also scores points with its reassuring equipment: effective mudguards, luggage rack with fairly tight elastics, stand, reflectors and bell (a bit far from the handle, too bad) are there. A front light is also integrated into the frame, but the headlight does not follow the direction of your handlebars during a turn, which requires more attention. As for the brakes, here with mechanical disc, these are correct, even if they lack bite to brake in a supported way. Security is still assured, fortunately.
In terms of driving, the Elops 900 E is an electric bike cut out for urban travel, not for sporty driving. In town, it promises efficient driving, even if a little plan-plan, which remains quite suitable for short trips. In detail, the engine of this VAE offers a maximum torque of 35 Nm, which is enough for short rides on flat roads. On the other hand, the 900 E can encounter some difficulties to climb medium slopes and therefore stagnate at 20 or 21 km / h. Otherwise, the bike offers three modes of assistance: a mode limited to 15 km/h, another to 20 km/h and a last to 25 km/h, in accordance with the law.
Finally, the Elops 900 E is capable of operating for a distance of 50 km on a single charge, which is very satisfactory. Special mention for its ability to calculate with great accuracy the routes and the number of kilometers remaining, which makes it possible to better manage its refills. The 417 Wh battery is removable. Regarding the charging time, count about 3h30.
To find out more, do not hesitate to read our complete test on the Decathlon Elops 900 E.
7 /10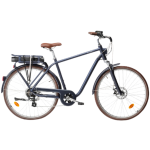 If you want to discover other references before making your choice, we invite you now to consult our guide to the best electric bikes of the moment.
Some links in this article are affiliate. We'll explaine everything here.
To follow us, we invite you to download our Android and iOS application. You can read our articles, files, and watch our latest YouTube videos.