And worse than the previous banner – but that was expected.
The second banner of update 4.0 has been available in Genshin Impact for a week now: it includes Zhong Li, Tartaglia and 3 heroes with 4 rarity stars. The banner's financial performance in China was among the worst in the history of the game.
Based on the results of the first week, the banner with Tartaglia and Zhong Li ranks fourth from the bottom among banners with two 5-star characters. The gap with third place was minimal.
Zhong Li and Tartaglia: $5.5 million. Bai Zhu and Gan Yu: $5.49 million. Kokomi and the Wanderer: $5.13 million. Eola and Klee: $4.24 million.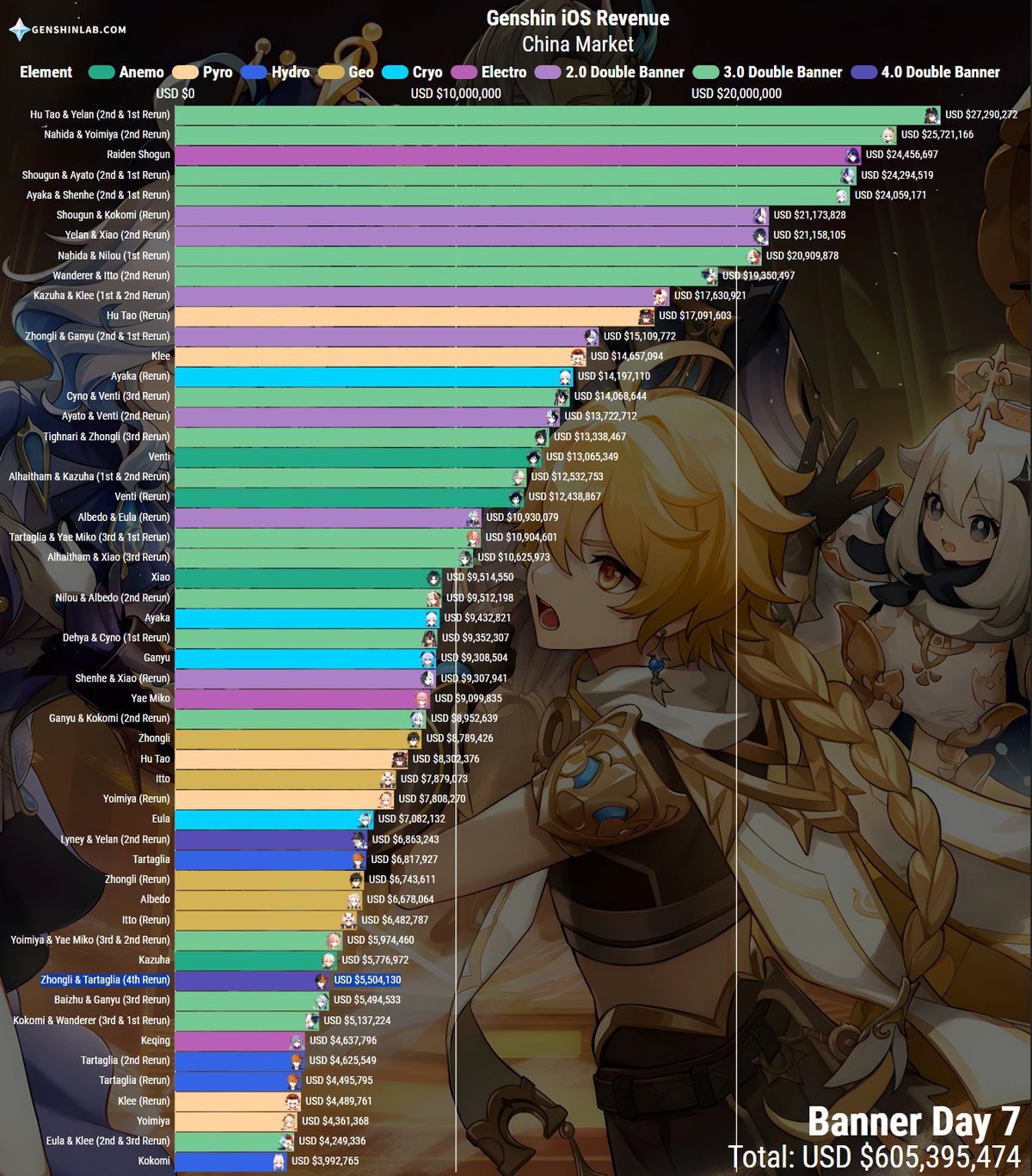 Can you trust the numbers from China?

This is a good guideline. While we don't know how much banners bring in in other regions, iOS players in China account for about a third of Genshin Impact's mobile revenue.
An interesting point: the current banner is inferior not only to most double banners, but also to many single banners. Among them were almost all the single banners of Zhong Li and Tartaglia.
For example, Zhong Li's single banners earned $8.78 million and $6.74 million respectively over the same 7 days. Tartaglia's single banner managed to gross $6.81 million.
The modest results of the current banner were expected: even the more attractive first banner of patch 4.0, which received two new heroes, did not attract Genshin Impact fans too much. There is only one new hero in the second banner: Freminet, a character with 4 star rarity.
Perhaps the 4.1 update banners will interest fans a little more. This patch is expected to add two 5-star heroes to the game, Risley and Nevillet; fans are actively shipping the characters and will probably try to get at least one of them.
Read completely
This is interesting