Apple set the agenda of the smartphone world again by introducing the iPhone 15 series at the Wonderlust event held on September 12. The technology giant kept the price of the series the same as its predecessor. However, this price also stands out as a very high amount. So, how many days will citizens of which country work to get these devices? The answer seems a little sad?
It is necessary to work 123.7 days in Turkey to buy a 128 GB iPhone 15 Pro
As it is known, the taxes collected from technological products in our country are quite high. Mysmartprice, known for its smartphone content, answered the question of how much work is required in which country to buy a 128 GB iPhone 15 Pro. According to the table calculated based on the minimum wage, Turkey is by far at the top with 123.7 days.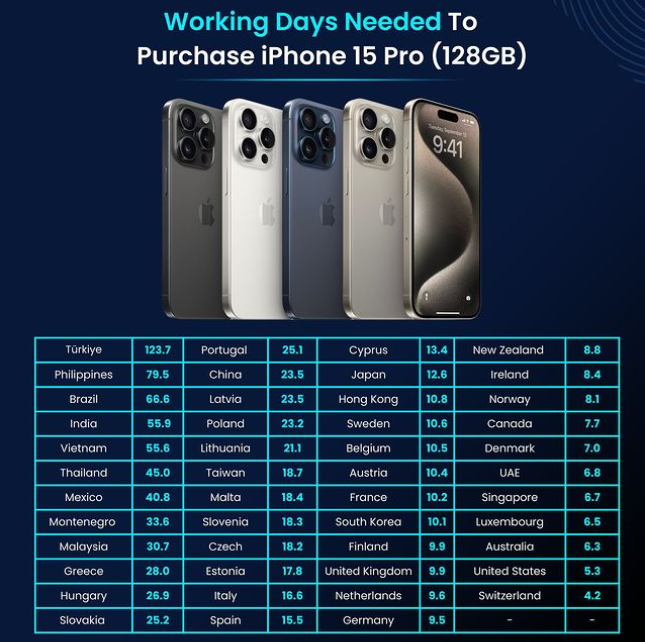 Philippines follows Turkey in second place with 79.5 days. Brazil ranked third with 66.6 days. On the other hand, in the USA, where Apple is located, it ranks second from last with 5.3 days, while in Switzerland, where per capita income is quite high, only 4.2 days is sufficient.
The first reactions to the iPhone 15 Pro Max have been revealed with pre-orders!
iPhone 15 pre-sales started in some countries last Friday. Incoming sales information makes Apple happy.
On the other hand, when we look at the dollar values ​​of the devices sold, the same picture does not emerge. If we look at how much it is sold for including taxes, Switzerland is the seventh country with the lowest price. In this field, China is quite ahead. The list created based on the iPhone 15 standard model is as follows;
The countries where the iPhone 15 price is cheapest are listed as follows;
OrderCountryiPhone 15 Price1Japan$7632China$8243Canada$8334South Korea$8495Thailand$8596Australia$8677Switzerland867$8United States$8759Hong Kong$88110Taiwan$88835Türkiye$1,857