Black Friday Week is an opportunity to get good deals on a number of high-tech products, from smartphones to headphones, laptops and video game consoles. Electric vehicles are also affected, such as this Decathlon Stilus E-Touring VTC which sees its price plummet from 3,499 euros to 2,999 euros, not counting the aid that it is possible to obtain for the purchase of this type of vehicle. .
Attention lovers of long outdoor walks and large green spaces! Black Friday Week also targeted Decathlon's high-end electric bikes and despite its power, this Stilus E-Touring was caught up in promotions. Designed with a Bosch motor, a PowerTube 750 battery from the same manufacturer and equipped with VTC status, it is perfect for enjoying weekends in the great outdoors. At Decathlon, this recent model of electric VTC benefits from a reduction of 500 euros.
What to remember about the Decathlon Stilus E-Touring
A powerful Bosch motor with a torque of 85 Nm A range of up to 130 km A capacity of 145 kg ideal for hiking
Instead of the usual 3,499 euros, the Decathlon Stilus E-Touring is now available on sale at 2,999 euros at Decathlon. Remember that it is possible to request state aid for the purchase of this type of vehicle and thus make additional savings.
If, subsequently, the offer mentioned in this article is no longer available, please take a look below to find other promotions concerning the Decathlon Stilus E-Touring. The table updates automatically.
Where to buy
Decathlon Stilus E-Touring at the best price?
A VTC designed for long getaways
The Stilus E-Touring is not a bike designed for people looking for sporting performance but rather for long tours. This VTC has a low aluminum frame which makes it easier to step over. If it gives an impression of robustness, this is less the case regarding comfort given that it adopts a rigid fork designed to support its maximum capacity of 145 kg. Only the 29-inch wheels absorb shocks, but remember that this is a VTC and not a mountain bike.
If the Decathlon Stilus E-Touring is recognized for its suitability for hiking, it is in particular for its maximum capacity of 145 kg (bike and driver included). The luggage rack delivered by default can support a load of up to 27 kg and it is possible to add another luggage rack at the front, attached to the fork, and a last one to be installed on the handlebars. There is also a rear mudguard as well as Spaninga front and rear lights. Finally, this VTC is equipped with a navigation screen displaying information relating to driving such as the remaining range.
A Bosch engine for adventure
The Decathlon Stilus E-Touring features a Bosch Performance Line CX motor capable of delivering 85 Nm of torque. This is the German manufacturer's most high-end model and it is rare to find it on a bike at this price. It delivers a maximum power of 600 W and allows you to pedal easily and smoothly up to 25 km/h. Going down the slopes is only a formality with such power but remember that this is a VTC, this engine would almost be a bit too powerful for this type of bike.
Finally, this electric VTC has a PowerTube 750 battery with a capacity of 750 Wh, this is the best battery in the PowerTube range from Bosch. Thanks to it, the Decathlon Stilus E-Touring is capable of reaching a range of 130 km in Eco mode. The 100 km are easily reached by driving at moderate speed and on flat terrain, it is more complicated on routes with unevenness. To fully recharge the battery, it takes just under 6 hours.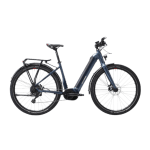 Black Friday 2023: so you don't miss any offers!
Black Friday will officially begin on Friday, November 24, 2023, and lasts until Sunday evening. The next day, Cyber ​​Monday will take over for a single day, but before that, there is Black Week. This begins on November 17 and will close just before the launch of Black Friday.
Find our Black Friday selections by theme:
Find our Black Friday selections by merchant:
To ensure you don't miss any good deals from this event, here are some tips to adopt now so you don't miss any of the promotions we recommend:
Follow us on our X account (Twitter) @ArogedPromos dedicated only to good deals (remember to activate the bell to receive notifications in real time). Download our Aroged application (available on iOS and Android) to activate notifications from the "Good Deals" category and thus receive new articles related to Black Friday in real time. Subscribe to our Good Deals newsletter to be sure to receive advance offers (no more than one email per day, unsubscribe in one click, no distribution to third parties):
It's recorded ! Watch your mailbox, you will hear about us!
The data transmitted via this form is intended for Humanoid, the publisher of the Aroged site in its capacity as data controller. They will under no circumstances be transferred to third parties. This data is processed subject to obtaining your consent to send you by e-mail news and information relating to editorial content published on Aroged. You can object to these emails at any time by clicking on the unsubscribe links in each of them. For more information, you can consult our entire policy for processing your personal data. You have a right of access, rectification, erasure, limitation, portability and opposition for legitimate reasons to personal data concerning you. To exercise one of these rights, please make your request via our dedicated rights exercise request form.
Some links in this article are affiliated. We'll explaine everything here.
Want to join a community of enthusiasts? Our Discord welcomes you, it is a place of mutual help and passion around tech.