After a beta period, the final version of Android 14 begins to be deployed on the Samsung Galaxy A54 with One UI 6.
Source: Aroged – Chloé Pertuis
After about two months of beta phase, Samsung Galaxy A54 users are starting to announce on Reddit that they are receiving the final version of Android 14 on their phone. This system update comes with One UI 6, the latest version of Samsung's interface, as well as the October Google Play update.
As usual, the deployment of this update is gradual. Also, it is possible that it is not yet available on your Galaxy A54. In this case, it should arrive in the coming days, do not hesitate to check regularly in the settings of your smartphone. Remember that Samsung's official calendar announced a deployment in the week of November 13.
The Galaxy A54: flagship of the Samsung catalog
Although the Galaxy S and Galaxy Z ranges are Samsung's true flagships, the Galaxy A range is the most important for the brand: they are the best-selling devices. It is therefore excellent news that the deployment of Android 14 on the Galaxy A54, since this should allow a large number of users to benefit from this version.
According to OMDIA, the Galaxy A54 is Samsung's third most sold smartphone in the first half of 2023, behind the Galaxy A14 and the Galaxy A14 5G. This places it in the TOP 10 best-selling phones of the period.
9 /10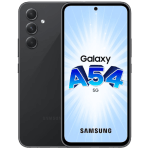 What's new in this update?
For the moment, we have not found a complete changelog for this version, but the new features of One UI 6 are already known. For example, we can cite the new quick settings pane, the possibility of separating notifications from the quick menu, more overall customization of the system, Bixby Text Call so you don't have to pick up in a meeting, a new weather widget, a new photo interface and many others.
We invite you to consult our complete file on One UI 6 for more information.
Want to join a community of enthusiasts? Our Discord welcomes you, it is a place of mutual help and passion around tech.